1.
For every purchase of an eligible Dell product, customers are entitled to get a corresponding free
item. The following are the eligible products and free bundled item:
2.
For company purchased units / corporate accounts, a maximum of 5 free bundles can be
redeemed regardless of
the
quantity
purchased within the promo period.
For CANON PRINTER
3.8 Redeeming customers for the Canon Pixma printer shall email the following
documents and information to promoactivations@lamonte.com.ph:
 Customer's complete name
 Customer's complete address and contact number
 Scanned copy of the sales invoice indicating product purchased within the promo
date
 Scanned copy of the service tag
 Scanned copy of any valid government issued ID
3.9 Customer should present the E-voucher to Asianic redemption stores
3.10 E-vouchers shall be valid until 60 days from date of receipt.
3.11 If representative/s shall claim on behalf of the customer whose name appears on the sales invoice,
the following should be presented:
 Authorization letter and a photocopy of the owner's ID
 Original and photocopy copy of the sales invoice / proof of purchase indicating product purchased within the promo date
 Photocopy of the service tag
3.12 For company claims, a letter from the authorized representative (e.g. Purchasing Manager) and company ID are required as well.
4. Redemption in designated stores for DRONES and ANYCAST is until end of promo period only. After promo period, all redemption claims must be emailed to promoactivations@lamonte.com.ph until December 11, 2017.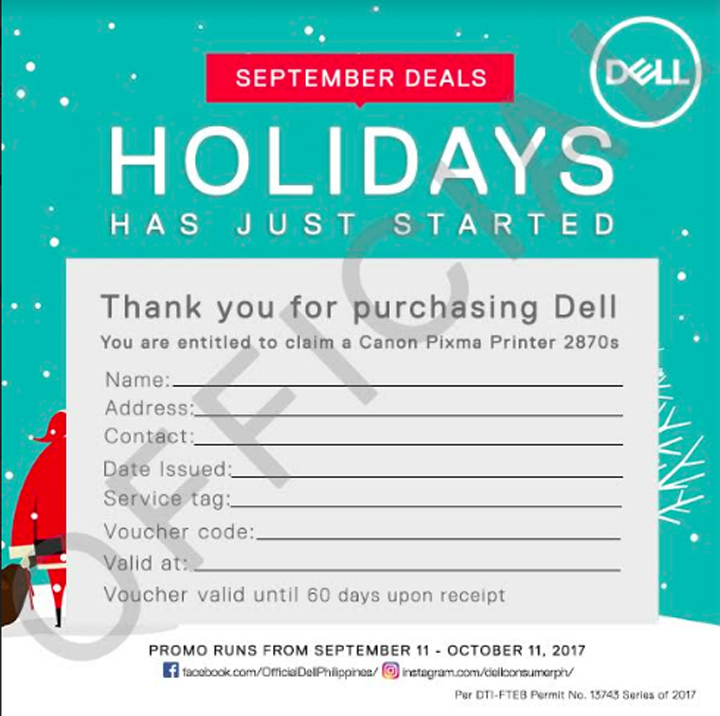 5. Valid claims after the promo period can be claimed directly from the following partner agency
offices:
GMA
JANET DIOLA/ SHENG DEL ROSARIO
# 11 Shorthorn St. Brgy Bahay Toro Project 8, Quezon City
Guido Bldg 294 SB-Cabahug St. Brgy Ibabao Eatancia Mandaue City
# 72 Villa Matilde Subd., Jalandoni St. ILOILO City
C5 Silos Apt. Cor. San JUan- Rosario St., Brgy 14, Bacolod City
Door #5 Josie Apartment Palma Gil St. B.O. Obrero Davao City
# 150 Antoli Apt. Tejero Subd. Zone 11, Patag CDO
6. Areas outside our partner agency offices will be shipped directly to customers FREE-OF-
CHARGE.
7. Only authorized Dell representative will release the items to the customer.
8. All free items are transferrable but not convertible to cash.
9. 1-year warranty period applies. Warranty does not cover user negligence, usage, and
incompatibilities with operating systems of smartphones.