Wednesday, 23 October 2019
Accutone TM710 Monaural Headset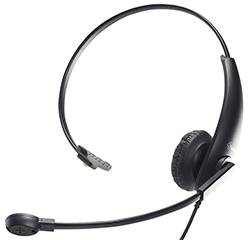 ---
Accutone TM710 Monaural Headset
Lightweight Monaural design with noise cancelling microphone and acoustic shock protection. Flexible and rotatable earpiece provides great comfort. Comes complete with an extendable soft-metal headband to fit all sizes. Use of a headset can reduce neck, upper back and shoulder tension - Increases productivity by freeing your hands whilst on the phone - Lightweight and comfortable - Acoustic shock protection.
Free Downloads
Product Description
TM710 Monaural Telephone Headset for Enterprises.
Award-winning minimalistic design
Sharp-looking elegant curves
Lightweight designed for extended usage
Strong and durable mechanical design