Aspire X
One third the size, all the features
Maximize your creativity and your desk space, too. Small enough to fit almost anywhere,
the compact Aspire X Series is just one-third the size of a tower PC, yet offers plenty of
power and performance for your multimedia creativity and HD entertainment – plus, your all
your media is shareable using Acer BYOC™ Apps.
HD fun
Wonderfully compact -- and greatly entertaining -- the Aspire X Series is your high-definition
multimedia center. Select models combine discrete graphics with HD audio for vividly accurate
color and sound. Plus, you can easily take the multimedia experience to your big screen, thanks
to the HDMI® port built into every Aspire X Series
desktop
.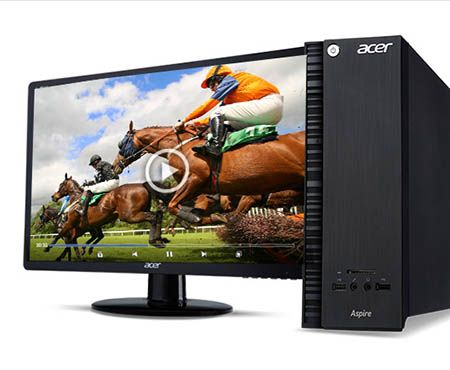 Expandable
Add up to 16 GB1 of
DDR3 memory
for fast response in entertainment, gaming and design
applications
. Easily transfer media from your digital devices using the front-mounted card reader
or speedy USB 3.0 ports.1 Plus, you have anytime,
anywhere access
to
documents
and media on
all your devices with Acer BYOC™ Apps.