Alantek Crimping Tool for RJ45 / RJ11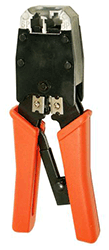 Alantek Crimping Tool for RJ45 / RJ11
Dual modular ratchet type crimping tool / Suitable for modular plugs: 8P8C/RJ-45, 6P6C/RJ-12 & 6P4C/RJ11 / Compatible with both stranded & solid wire (UTP/STP) / Built-in cable stripper and cutter / Parallel action for high quality crimping

Pay only P 371 a Month for 12 months.
Or pay only P 704 a Month for 6 months.
Installment promo is available for locally issued credit cards
Card holder must transact inside an Asianic store to avail of the installment
Features and Benefits
Carbon Steel tool body for excellent strength and long tool life
Polypropylene injection grip to reduce slipping and excellent power transmission
Suitable for RJ-11 (6 Position) and RJ-45 (8 Position modular plugs)
Typical Applications
Maintenance & repair 
Electrical Installations
Cable assemblies
FAQ's
What is the difference between un-insulated and insulated crimp tools?
Un-insulated crimp tools are typically used for general applications, whereas the insulated crimp tools have been VDE tested up to 1000 V, designed for use where electrical current is present. 
How do you maintain the product?
Axles and other movable parts should be regularly lubricated. 
Lubrication* is recommended at least every 10,000 cycles whenever the tool is exposed to contaminants. 
Adjustment of the crimping die nests should also be checked. Readjustment of the pressure adjustment axle is necessary when the pre-load of the tool decreases significantly.
The Importance of a High-Quality Crimp
When a crimping tool is used on a terminal, two crimps take place at the same time. One is the electrical connection between the conductor and terminal. The other is the insulation crimp which provides strain relief against vibration and tension. It is important that the electrical connection is gas-tight without any voids between the wire strands and the terminal. If there any voids present, then corrosion can occur causing resistance and excessive heat which damages the electrical connection. Using a good quality crimping tool will ensure that a full, gas-tight crimp is produced preventing future deterioration of the electrical connection and insulation breakage.
Technical Specifications
Crimp Connector Type
:
RJ11, RJ12, RJ45
Overall Length
:
215mm