Wednesday, 22 November 2017
AOC 1670swu 15.6-Inch LED Display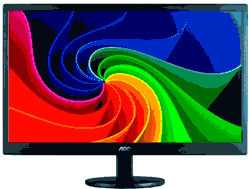 ---
AOC 1670swu 15.6-Inch LED Display
The e1670Swu is a USB-powered monitor that requires only a single USB cable instead of the traditional AC/DC power supply. Simply plug the monitor into a USB port on your notebook, computer, or power bank and it is ready for use – no more hassle looking for a power source and carrying bulky cables around. As for design, it has a narrow edge bezel for maximum viewing space.
Availability: Phased Out
Free Downloads

Pay only P 310 a Month for 12 months.
Or pay only P 588 a Month for 6 months.
Installment promo is available for locally issued credit cards
Card holder must transact inside an Asianic store to avail of the installment



LED

AOC LED Monitors help to save power while giving you perfect colors. LED's are solid state devices which light up to full, consistent brightness faster saving start-up time. LED's are free from mercury content which allows for eco-friendly recycling and disposal process. LED's allow for better dimming control of LCD backlight, resulting in super high contrast ratio. It also gives superior color reproduction thanks to consistent brightness across the screen.



DCR 20million


Higher contrast means black looks dark jet black and white looks pure bright white. Higher contrast ratio of LCD Monitor makes them better for watching movies, games or other graphic content.



16.7 Mn Colours


FRC 8-bit panel can display 16.7 million colors, more vibrant than traditional 6-bit panels.



ECO Mode


5 display settings (Text, Internet, Game, Movie and Sport) to meet different viewing conditions with hotkey adjustment. When choosing text mode in OSD, the monitor will save about 50% consumption, compared to the normal condition.



Screen +


Screen+ software is a desktop screen splitting tool, that splits the desktop into different panes, each pane displaying a different window. You only need to drag the window to a corresponding pane, when you want to access it.



Low Power Consumption


The power consumption of this monitor is 7w .As low as any monitor can consume. You can save upto 50% of your electricity bills, if you use this monitor.



HG free


Mercury (HG) free LCD monitors are more energy efficient and their display is much more better than ordinary LCD monitors.



Narrow Edge


Narrow size bezel which makes the viewable area more.


Power free connection


You can connect your monitor with power bank even if you don't have electricity. It will give power to your monitor.( Please note that the output of power bank should be at least 5V/2A or more.)




Technical Specifications

Display Size
15.6 Wide (395mm diagonal)
Native Resolution
1366 x768
Response Time
16ms
Interfaces
VGA (D-Sub)
Viewing Angle (H)
(V)
90 degrees
50 degrees
Luminance
220 Cd/ m2
Contrast Ratio
Dynamic Contrast Ratio
500:1
20,000,000:1
Pixel Pitch
0.252mm
Colors Supported
262K
Frequency Range (H)
Frequency Range (V)
30-60 kHz (H)
60 Hz (V)
Power
7 W
Stand By Power
0.5 W
Power Supply
5V, 3A (Power tho' USB connector
W x H x D mm
(with base)
370.7 x 142.8 x 298.6
Net Weight
.87Kg
On Screen Controls


Wall Mounting

Luminance, Image Setup, Color, Temperature, Color Boost, OSD Setup, Extra, Reset, Exit

N/A