APC Back-UPS ES 500VA without AVR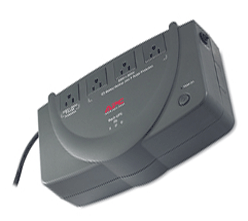 APC Back-UPS ES 500VA without AVR
The Back-UPS ES offers our best value for protecting your home and home office computer systems. It provides battery backup power that allows you to work through short and medium length power outages. It also safeguards your equipment from damaging surges and spikes that travel along your utility and phone lines. The best Low cost Quality UPS with Output Power Capacity at 300 Watts / 500 VA.
Features
Protection
• Reserves power capacity and run time for connected equipment that require battery back-up while providing surge only protection for less critical equipment.
• Protects connected loads from surges, spikes, lightning, and other power disturbances.
• Provides protection of connected equipment from power surges on the data lines.
• Ensures the product has been tested and approved to work safely with the connected service provider equipment and within the specified environment. UL, FCC, CE, C-Tick approvals.
Convenience
• Provides notification of changing utility power and UPS conditions.
• Periodic battery self-test ensures early detection of a battery that needs to be replaced.
• Provides temporary battery power when the utility power is out.
• Ensures clean, uninterrupted power to protected equipment while batteries are being replaced.
• Enables a quick recovery from overload events.
• Protect equipment with input transformer blocks without blocking access to other receptacles.
Technical Specifications:
Model
Back-UPS ES 500
Output Power Capacity
300 Watts / 500 VA
Nominal Output Voltage
230 Volt
Output Connections
(1) NEMA 5-15R (Surge Protection), (3) NEMA 5-15R (Battery Backup)
Nominal Input Voltage
230 Volt
Input Frequency
60 Hz +/- 3 Hz
Battery Type
Maintenance-free sealed Lead-Acid battery with suspended electrolyte : leakproof

Typical Recharge / Backup time
10 hour recharge time, 11.8min half load 150w, 5.8min full load 300w
Control Panel
LED Status display with On Line : On Battery
Audible Alarm
Alarm when on battery : distinctive low battery alarm : overload continuous tone alarm
Surge Energy Rating
450 Joules
Dimensions
85.00 mm x 298.00 mm x 183.00 mm
Weight
Net Weight - 3.64 KG
Shipping Weight - 4.20 KG
Color
Charcoal black
Operating Environment
0 - 40 °C