The NVIDIA GeForce GTX 980 graphics card found in the ASUS G11 takes gaming
visuals to a whole new level. Experience the latest games in 4K/UHD, or indulge in
some panoramic action on up to three HD displays. You can even add a fourth display
via a HDMI connection.
Three Monitor Surround
ASUS G11 lets you play on up to three displays – seeing more of the battlefield gives
you the tactical advantage right from the start, whether you're playing first-person
shooters or real-time strategy games. There are currently over a hundred games that
support multi-monitor configurations.
Accessory Display
Use your accessory display chat boxes or in-game maps. You can even use it to catch
up on e-sport streams, TV shows or movies, and even surf the web. In time, developers
may even add official support for the accessory display, allowing you to use it for real-time
maps and other game-enhancing tools.
More gaming, Less waiting
DDR4 SDRAM provides speeds of up to 2.1GT/s — twice that of DDR3 — to give you highly
stable performance. DDR4 is also more efficient, requiring just 1.2V, so you get 20% in
energy-savings over DDR3. There's even USB 3.1 for double the data transfer
rates
of USB 3.0.
ASUS G11 evokes an air of mystery, thanks to its futuristic outer space-inspired design.
With its menacing red and black color scheme, and Mayan-inspired
markings
, it radiates
the power and performance that lies within.
LED effects
You're immediately drawn to the three red "flames" on the flanks of the ASUS G11, before
your gaze moves on to the 8-million color customizable LED effects that dominates the
center of the front chassis face. You can create ambient lighting to suit the game you're
currently playing; or you can use Pulse mode – with emits a soft pulsing glow that makes
it seem that ASUS G11 is slowly getting ready for its next battle.
ASUS G11 has extensive connectivity options
, including an HDMI port so you can hook it
up to your HDTV for gaming on an even larger scale. It has a total of six USB ports, including
two USB 3.1 ports. It has the latest Bluetooth 4.0; as well as optional 802.11ac Wi-Fi for smooth,
In addition, ASUS storage innovations keep your data easily within reach
. ASUS G11 comes with
100GB
of ASUS WebStorage space for 1 year free, so you can keep safely store and access your
cloud-based data anywhere as long as you have an internet connection. You can also share photos
and videos with your family and friends through a secure URL link.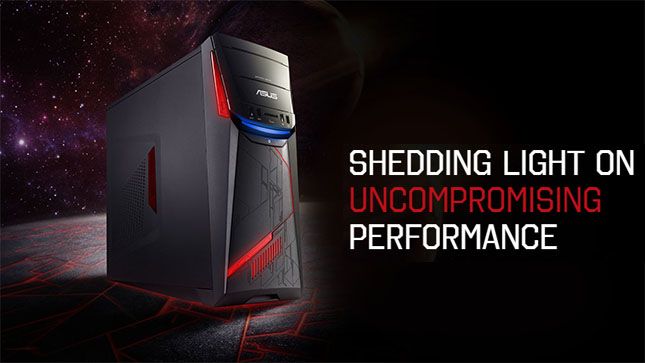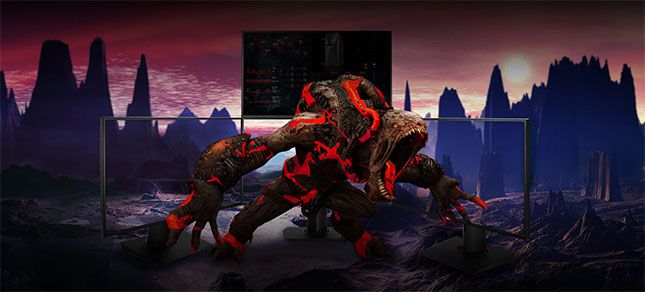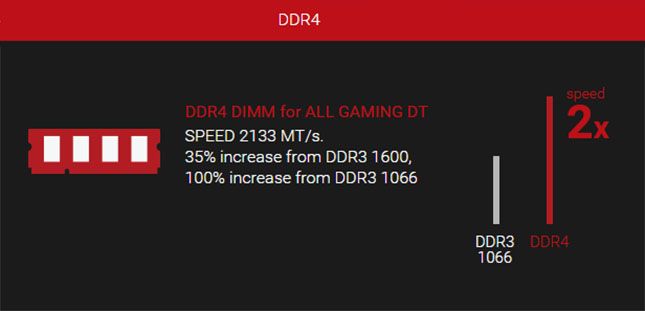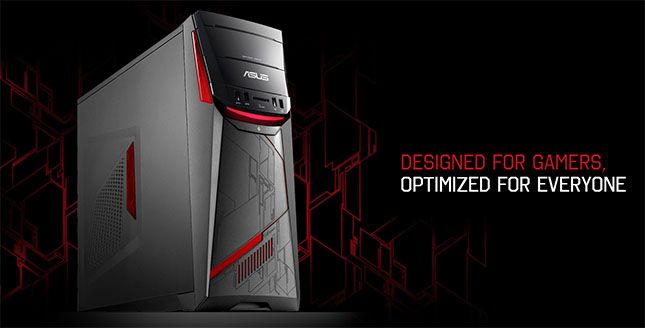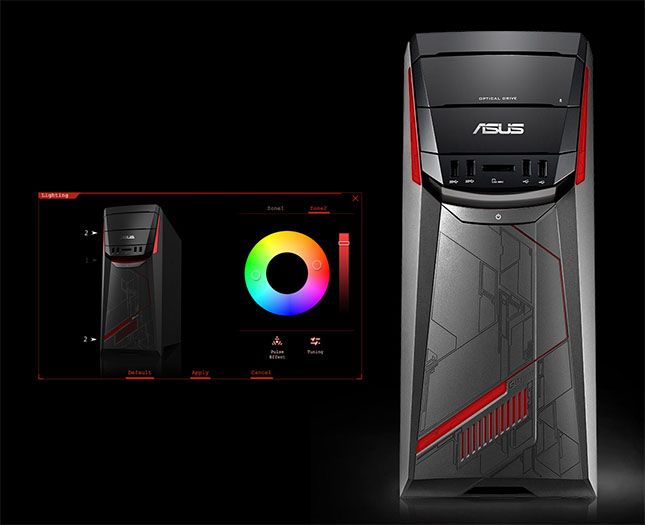 Efficient heat dissipation
The chassis design of the ASUS G11 incorporates up to eight air vents to facilitate air
intake and heat dissipation. Large 5mm side vents are dedicated to cooling the CPU,
while the front
air intakes
draws air into the chassis for effective thermal management
so G11 stays
cool
even in the heat of battle.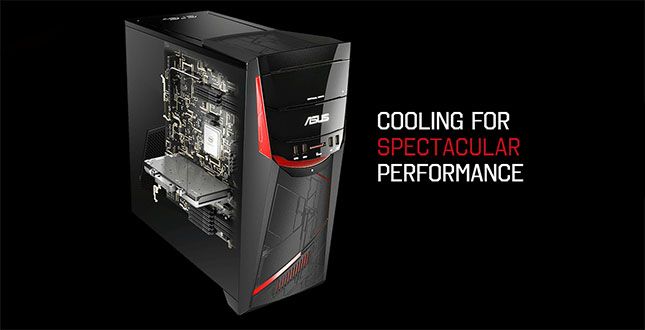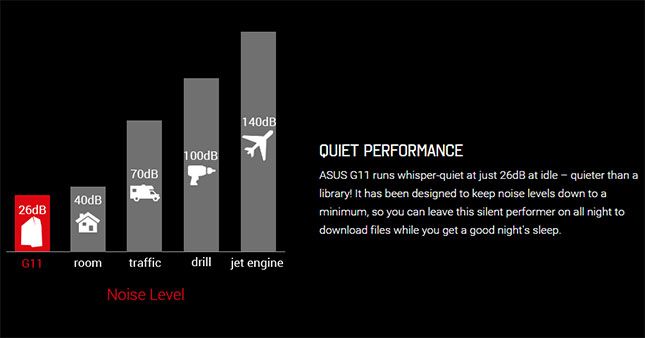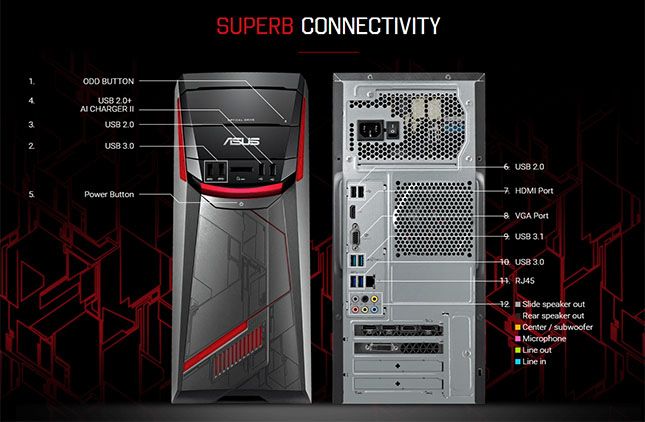 Technical Specifications:
Display
:
None (Sold Separately)
Operating System
:
Windows 10
Processor
:
6th generation Intel Core i7-6700 Processor 3.4GHz (8M Cache, up to 4.00GHz)
Chipset
:
Built-In Chipset :H110
Graphic
:
NVIDIA® GeForce GTX950 2GB
Memory
:
4GB DDR4 at
2133MHz
Expansion Slots
:
1 x PCI-e x 1
Storage
:
1TB +
128GB SSD
Optical Drive
:
Super Multi with DL DVDR/RW
Front I/O Ports
:
2 x USB 2.0
Back I/O Ports
:
2 x USB 3.1
1 x 7.1 - Channel Audio I/O
Card Reader
:
6 -in-1: SD/ SDHC/ MS/ MS Pro/ xD/ MMC/MMC Plus
Dimensions
:
176 x 440 x 422 mm (WxDxH)
250 x 510 x 550 ~ cm (WxDxH) with Carton
Accessories
:
Asus Keyboard & Mouse
Whats in the box
:
Warranty Card
Warranty
:
3 Years Global Warranty