The ROG-exclusive Hydro Overclocking System gives ROG GX700 superior overclocking
performance so you can dominate the battlefield. The cooling module pumps coolant into
the GX700, where it is circulated around heat-generating components. The coolant then
heads back to the cooling module, where two radiators help to dissipate heat. An ROG-patented
connection between the cooling module and GX700 ensures that the coolant flows smoothly
between the two without leaking*.
The Hydro Overclocking System helps GX700 cope with the heat generated by the overclocked
GeForce GTX980 GPU. You can fully unleash the monstrous potential of GX700 for 20% more
performance and exceptional stability. On its own, GX700's dual thermal design can still release
the heat generated by the GPU, so you still have beast-mode levels of performance!
ROG GX700 is the world's first liquid-cooled gaming laptop. It is designed to give you a gaming laptop
with the overclocking potential to go toe-to-toe with extreme gaming desktops. GX700 features
Windows 10 Home, an overclockable Intel® Mobile K-SKU processor, NVIDIA® GeForce® GTX™ 980
graphics, and DDR4 RAM to give you desktop-like power at home, and ultra-performance on-the-go.
ROG GX700 is the world's first gaming laptop with a detachable liquid-cooling module for extreme
overclocking. With the liquid-cooling
dock
attached, you can
overclock
GX700 to gaming desktop-like
levels of performance. On its own, it packs quite a punch, and easily outperforms other gaming laptops
on
the market
. It even fits snugly in your backpack, so you can dominate LAN parties too.

*Disclaimer: Residual coolant maybe be found on the connector tips after disconnecting the
ROG Hydro Overclocking System from GX700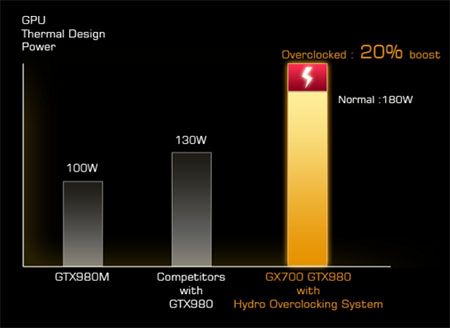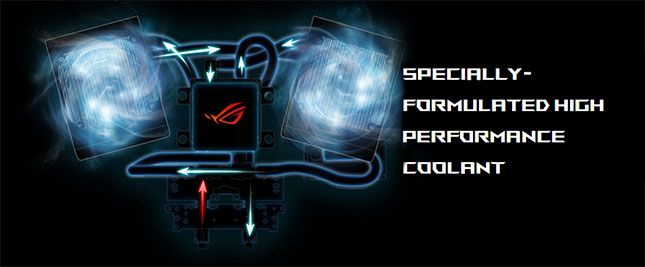 The specially-formulated coolant provides corrosion protection for all internal components and
materials, including aluminum, iron, steel, and copper alloys. The very low depletion rate of the
organic-acid inhibitor removes the need for
supplementary
cavitation erosion protection additives,
and reduces the maintenance downtime normally required for regular inhibitor tests and additive
top-ups to maintain inhibitor concentration. The Hydro Overclocking System helps decrease CPU and GPU
temperatures by 31% and 33% respectively.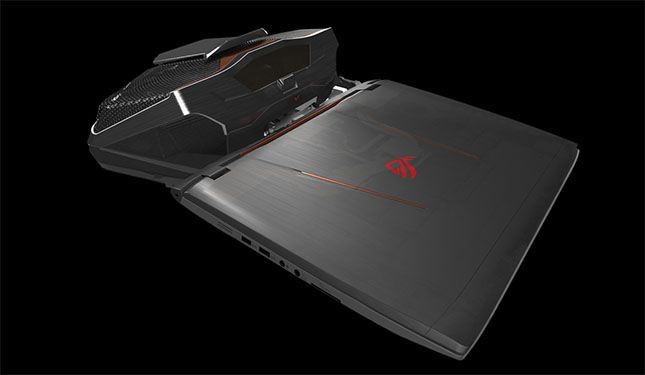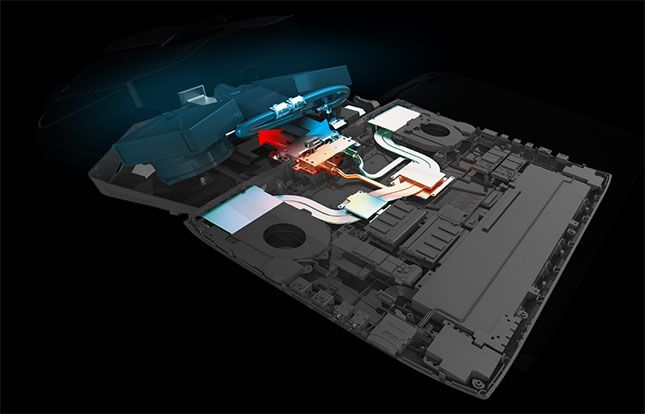 Overclocking to Extremes
The Hydro Overclocking System lets you overclock ROG GX700 to new heights. The 3D Mark 11
test scores for ROG GX700's NVDIA GeForce GTX 980 graphics card jumps 43% from 14000 to
20000! The overclockable Intel® Mobile K-SKU processor can receive a performance increase
of up to 48%, with a BClock boost of around 10%, pushing clock frequencies from 100MHz to
110MHz. In addition, the DDR4 RAM can be boosted by up to 31% from 2133MHz to 2800MHz
to give GX700 incredible desktop-grade gaming performance.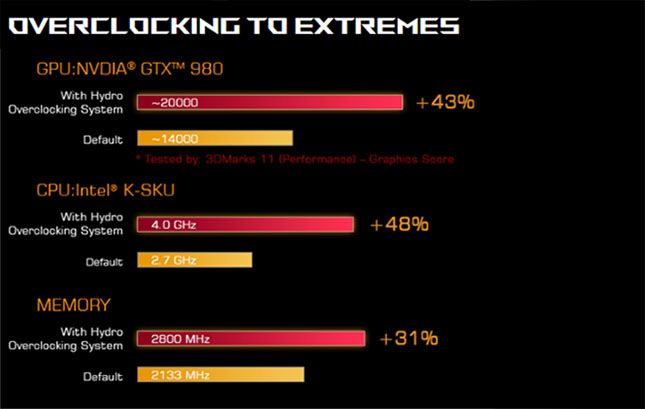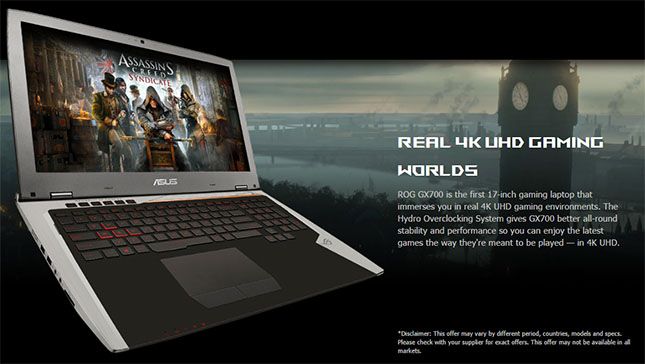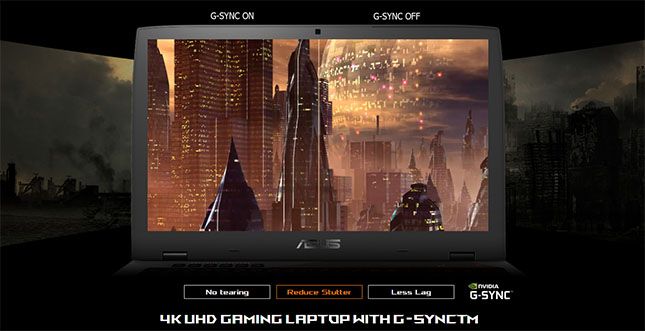 GX700 features a 4K UHD panel and NVIDIA® G-SYNC™ technology to immerse you in smooth,
free-flowing 4K gaming worlds. G-SYNC™ synchronizes the display's refresh rate to the GPU to give
you visuals with no lag, tearing or stuttering, and it does this all without affecting system performance!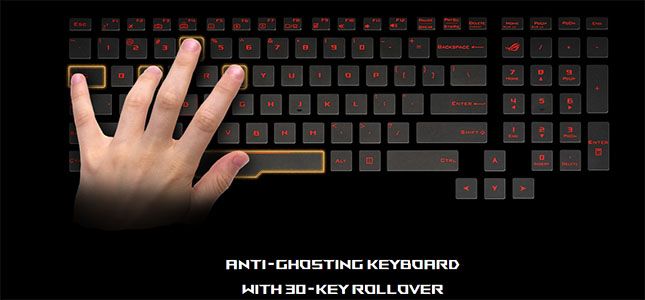 GX700 features anti-ghosting with 30-key rollover technology so up to 30 keystrokes can be instantaneously
and correctly logged, even when you hit several of them at once. Each key is ergonomically-designed to
ensure solid and responsive keystrokes when typing or entering commands – making it easy for you to
dominate the battlefield. And with a new Record key and more macro keys at your disposal, everything
you need is at your fingertips.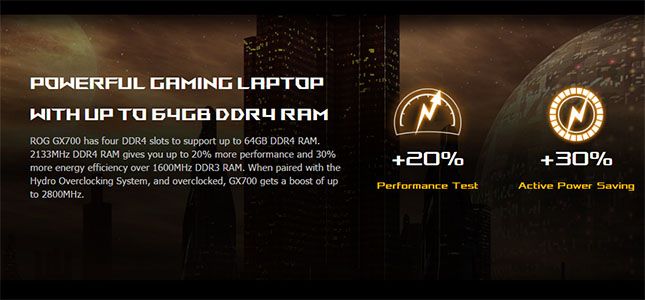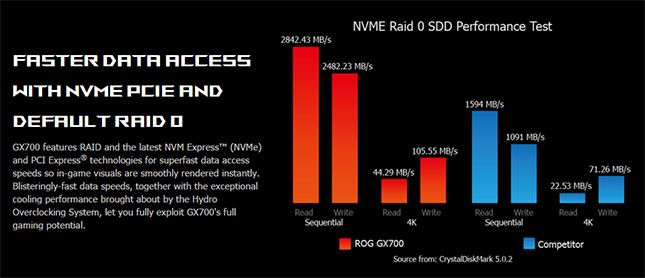 ROG GX700 features an ESS Sabre headphone DAC and amplifier to give you a sample rate that is
eight times greater than CD-quality audio. The ESS Sabre headphone DAC improves sound quality;
giving you a high dynamic range (DNR) and less noise for rich 384Hz/
32bit
sound output. In-game audio
sounds richer, with greater detail and less distortion, even when you're using a headset.
In addition, the ESS amplifier adds bass and enhances audio for even clearer, detailed sound.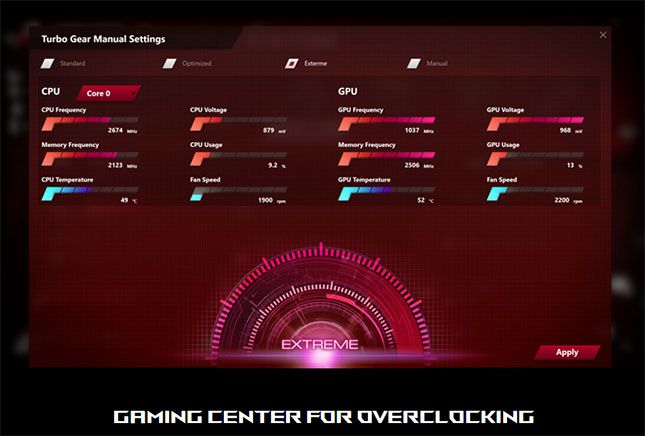 The ROG Gaming Center features Turbo Gear for amazing overclocking. It gives you four different
overclocking mode – Standard, Optimized, Extreme, and Manual. Extreme mode lets you overclock
GX700 with just one click for hassle-free access to extreme performance for 4K UHD gaming. You also
have the option to overclock manually, so you can unlock your own personal achievements!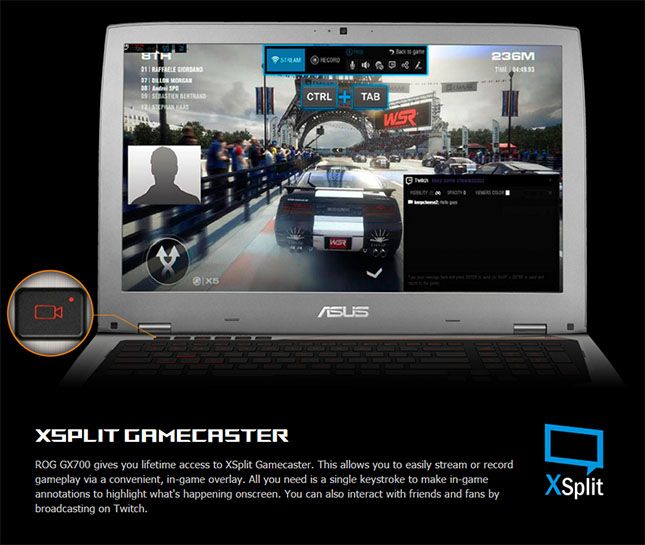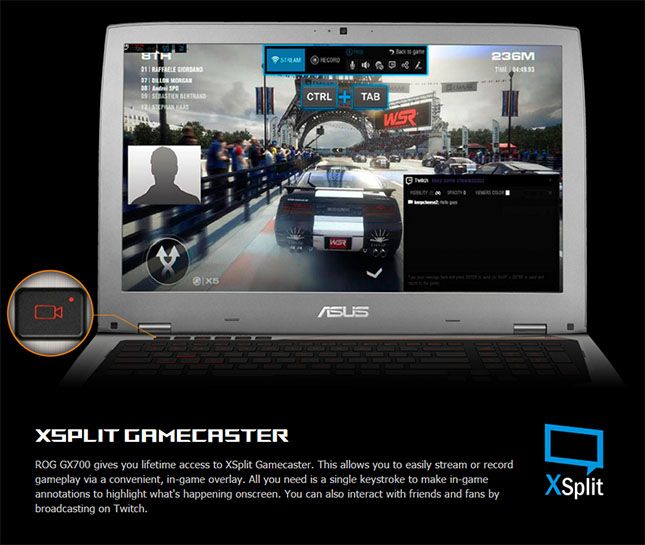 ASUS Sonic Studio and Sonic Radar give ROG GX700 truly immersive gaming audio.
Sonic Studio provides high quality gaming audio, as well as improved streaming and
audio recording for perfect voice pickup and noise reduction.
Sonic Radar helps you detect opponents through an on-screen overlay that shows the
relative position of gunshots, footsteps and other in-game sound effects.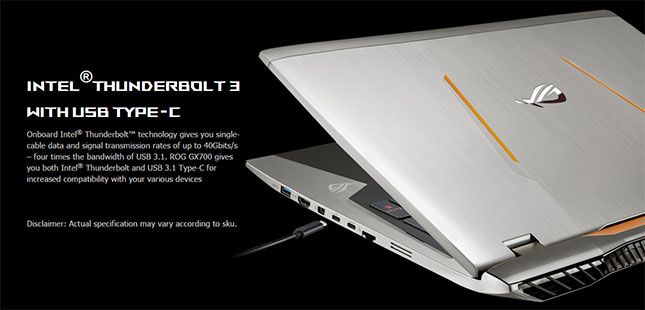 Technical Specifications:
Processor
:
Intel Core
i7-6820HK Processor 2.7GHz (8M Cache, up to 3.60GHz)
Operating System
:
Windows 10 64Bit
Chipset
:
Integrated Intel® CPU
Memory
:
32GB DDR4 2800(O.C.)/2133 MHz SDRAM
Display
:
17.3-inch 16:9 Full HD (1920x1200) anti-glare
Graphic
:
NVIDIA® GeForce® GTX 980 with 8GB GDDR5 VRAM
Storage
:
2x 256GB SSD Storage
Card Reader
:
2 -in-1 card reader ( SD/ MMC)
Networking
:
Integrated 802.11 ac
Interface
:
1 x Microphone-in jack
1 x USB 3.1 TYPE C port(s)
1 x RJ45 LAN Jack for LAN insert
Audio
:
ASUS Sonic Studio
Battery
:
6Cells 93 Whrs
Power Adapter
:
Output :
100 -
240 V
AC, 50/60 Hz universal
Dimensions
:
429 x 309 x 33 ~35 mm (WxDxH)
417 x 368 x 114 mm (WxDxH)
Weight
:
3.6 kg with Battery