Pay only P 5,176 a Month for 12 months.
Or pay only P 9,803 a Month for 6 months.
Installment promo is available for locally issued credit cards
Card holder must transact inside an Asianic store to avail of the installment
Operating System
Available with Windows 10 Pro - for a smooth, versatile PC experience.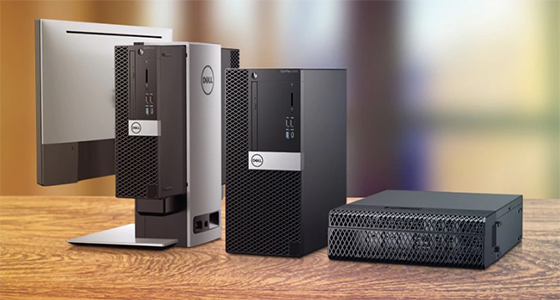 The desktop reimagined
OptiPlex has 25 years of experience delivering customer-led innovation for desktops by continuously adapting to the way you work. Now featuring versatile, space-saving form factors and 8th generation Intel® Processors to unleash your full potential.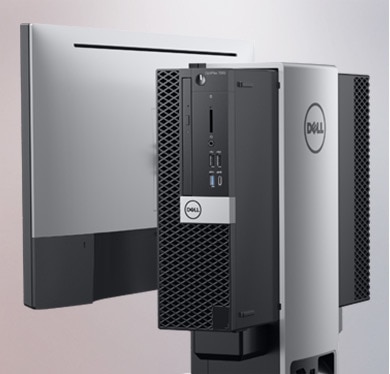 Fit for any setting
Versatile and flexible: The OptiPlex 7060 has an adaptable, compact design that allows you to maximize your environment by conveniently fitting into your workspace. 
Built responsibly: Premium materials and recycled plastics mean your OptiPlex 7060 is designed with the environment in mind.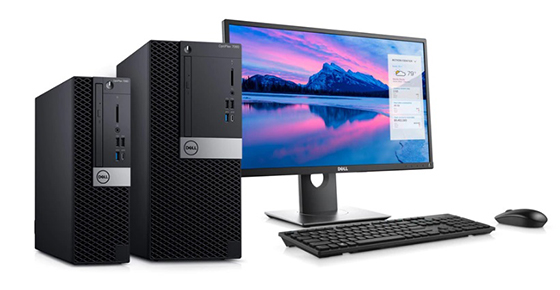 Unleash your productivity
Powerful performance: 8th generation Intel® Core™ Processors and up to 64GB of 2666MHz DDR4 memory drive your workday like never before.
Boot up faster than ever: Enjoy the faster boot and data access times with an M.2 PCIe NVMe drive. Optional Intel® Optane™ Memory turns even the smallest, routine tasks into huge productivity gains, launching browsers and opening files faster and smoother than ever.
Ready to work: Your OptiPlex desktop supports up to three displays without the need for additional graphics cards, while also supporting next generation AMD and NVIDIA discrete graphics options for higher graphics performance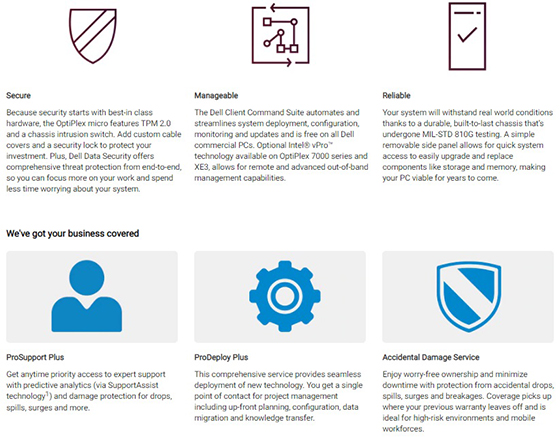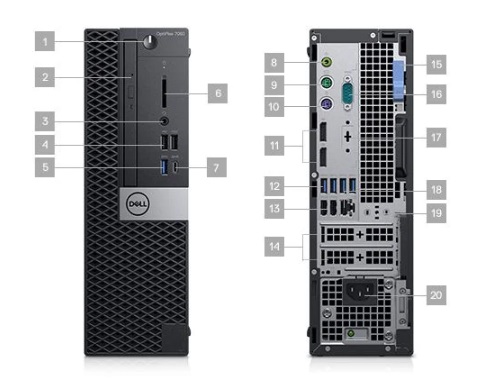 Ports & Slots – Small Form Factor
1. Power Button | 2. Optical Drive (Optional) | 3. Universal Audio Jack | 4. USB 2.0 Ports (2) (1 with Powershare) | 5. USB 3.1 Gen 1 Port | 6. SD Media Card Reader (Optional) | 7. USB 3.1 Gen 2 Type-C Port with Powershare | 8. Line-out | 9. PS/2 Keyboard Port | 10. PS/2 Mouse Port | 11. DisplayPorts (2) | 12. USB 3.1 Gen 1 Ports (4) | 13. USB 2.0 Gen 1 Ports (2) | 14. PCIe card Slots (2) | 15. Release Latch | 16. Serial Port | 17. Video Port (Optional) | 18. RJ-45 | 19. Knock-out Slots for Wireless Antennas | 20. Power Connection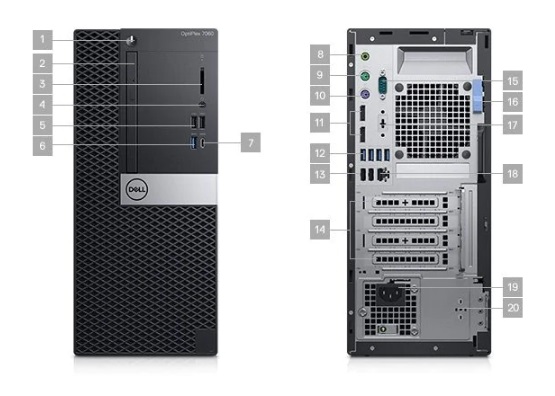 Ports & Slots – Tower
1. Power Button | 2. Optical Drive (Optional) | 3. SD Media Card Reader (Optional) | 4. Universal Audio Jack | 5. USB 2.0 Ports (2) (1 with PowerShare) | 6. USB 3.1 Gen 1 Port | 7. USB 3.1 Gen 2 Type-C Port with PowerShare | 8. Line-out | 9. PS/2 Keyboard Port | 10. PS/2 Mouse Port | 11. DisplayPorts (2) | 12. USB 3.1 Gen 1 Ports (4) | 13. USB 2.0 Gen 1 Ports (2) | 14. PCIe Card Slots (3) and PCI Slot | 15. Serial Port | 16. Release Latch | 17. Video Port (Optional) | 18. RJ-45 | 19. Power Connection | 20. Knock-out Slots for Wireless Antennas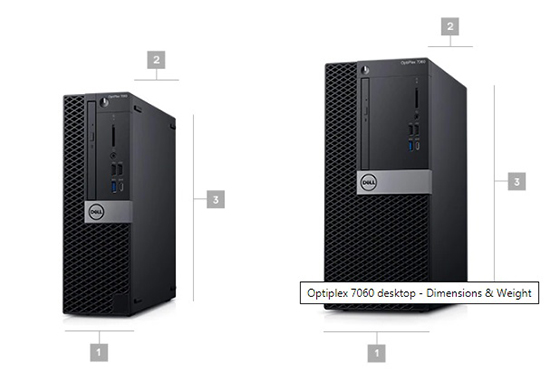 Dimensions & Weight
Small Form Factor: 1. Width: 9.26cm (3.7") | 2. Depth: 29.2cm (11.5") | 3. Height: 29.0cm (11.4") | Minimum Weight: 5.26kg (11.57lb)
Tower: 1. Width: 15.4cm (6.1") | 2. Depth: 27.4cm (10.8") | 3. Height: 35cm (13.8") | Minimum Weight: 7.93kg (17.49lb)
Technical Specifications
Processor
:
Intel Core i7-8700 (6 Cores/12MB/12T/4.6GHz/65W)
Chipset
:
Intel Q730 Chipset
Operating System
:
Windows 10 Pro (64bit) English 
Systems Management
:
No Out-of-Band Systems Management 
Memory / Max
:
4GB (1x4GB) 2666MHz DDR4 [Max Memory 32GB @ 2x16GB] 
Graphics
:
Intel® HD Graphics 630
HD Capacity
:
3.5 inch 1TB 7200rpm Hard Drive
Optical
:
8x DVD+/-RW 9.5mm Optical Disk Drive
Keyboard
:
KB216 Black
1 external USB Type-C 3.1 Gen 2 port
1 external USB Type-A 3.1 Gen 1 port
2 external USB Type-A 2.0 Gen 1 ports (one with PowerShare)
4 external USB Type-A 3.1 Gen 1 ports
2 external USB Type-A 2.0 Gen 1 ports (both SmartPower On)
4 internal USB 2.0 connectors
2 Display Port Connectors
Audio
:
Realtek ALC3234 High Definition Audio Codec 
MCR
:
No Media Card Reader 
Power Supply
:
OptiPlex 7060 Tower with 260W up to 85% efficient Power Supply (80plus Bronze) 
Dimensions
:
Height: 35 cm 
Weight: approx 7.93 kg (17.49 lb) [May vary with config]
Recovery Media
:
No Media Kit