Sunday, 23 September 2018
Fluke Networks Link Runner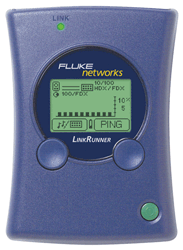 ---
Fluke Networks Link Runner
Link - Determine whether the drop is active, identify its speed, duplex capabilities and service type. 10/100/1000 Mbps. Ping - Verify connectivity to key devices. Cable Verification - Multiple tests help you quickly determine if cable is the problem. Cable Identification - Document unmarked segments, saving you hours of troubleshooting time. CDP/EDP - Precisely determine where network drops terminate on Cisco and Extreme switches
Free Downloads

Pay only P 7,532 a Month for 12 months.
Or pay only P 14,265 a Month for 6 months.
Installment promo is available for locally issued credit cards
Card holder must transact inside an Asianic store to avail of the installment
Features
As networks run faster and become more complex, infrastructure cabling and devices must operate to precise levels in a tighter performance window. As a result, nearly 80% of network problems stem from simple wiring and connection problems.

Front-line technicians are the first line of defense against problems in the physical and link layers of the network. LinkRunner improves your troubleshooting and escalation accuracy by helping you to quickly identify if a problem is the network or the PC NIC.

Easy to use and affordable

LinkRunner is so easy to use, even the most inexperienced technician can be up to speed and using it in a matter of minutes.

The ease of use and affordable pricing of this personal, pocket-sized tool (weight: 4.5 oz/128 g), makes LinkRunner a must-have for every front-line network technician - dramatically increasing your productivity while escalating accuracy by determining if the problem is on the network or the PC NIC.


Technical Specifications
Identifies

- 10BASE-T 100BASE-TX
- 100 Base-T (full or half-duplex)
- Gigabit Ethernet
- Token Ring
- Telco
- Cable ID
- Unpowered PC or hub
- Auto-MDIX ports Auto Negotiation or strapped port


Media Access

10BASE-T and 100BASE-TX

Cable Tests

Length, open, short, splits, wiremap, crossed, straight through

Ports

RJ-45 LAN, RJ-45 Wiremap

Interface

Push-button navigation of icon/menu driven view

Power


- 2 AA standard batteries
- Optional NiMH batteries and battery charger available
- Approximately 20 hours continuous use with 4 hours of pinging.


Dimensions

2.75"w x 3.75"h x 1.25"d 6.98cm x 9.52cm x 3.17cm

Weight

4.5 oz/128 grams with batteries installed

Warranty

One year