Sunday, 23 September 2018
Fluke Networks Micro Scanner 2 MS2-100 Cable Verifier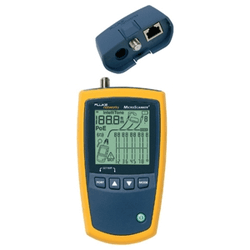 ---
Fluke Networks Micro Scanner 2 MS2-100 Cable Verifier
The MicroScanner2 Cable Verifier presents a revolutionary change in voice, data, and video cable testing. It starts by taking results from what was four different test modes and displaying them all at once graphical wiremap, pair lengths, distance to fault, cable ID, and far end device. What's more, its integrated RJ11, RJ45, and coax test ports support virtually any type of low-voltage cable testing with no need for awkward adapters. The end result is reduced test time and technician error. That makes high-quality installations more efficient than ever.
Free Downloads

Pay only P 5,178 a Month for 12 months.
Or pay only P 9,807 a Month for 6 months.
Installment promo is available for locally issued credit cards
Card holder must transact inside an Asianic store to avail of the installment
Technical Specifications
Manufacturer Part Number
MS2-100
Brand Name
Fluke Networks
Product Name
MicroScanner2 Cable Verifier
Product Type
Cable Analyzer
Test Services
Graphical wiremap, length, cable ID, and distance to fault displayed on one screen
Tests all common media types including RJ11, RJ45, Coax, with no need for adapters
Locates virtually any cable or wire pair with IntelliTone digital and analog toning
Verifies today's media services, including 10/100/1000 Ethernet, POTS, and PoE
Integrated rubber holster enhances grip and makes it durable enough for the toughest jobs
Large, backlit LCD makes results crystal clear whether in bright sunshine or in a dark closet
Length Measurement
0.98 ft to 1509.19 ft
Ports
RJ-45 10/100/1000Base-T Network
Connectivity Media
UTP
Display Screen
Monochrome LCD with backlight
Batteries
2 AA Standard
Dimensions
3" x 6.4" x 1.4"
Weight
0.8 lb
Additional Information
Solicits and detects the presence of 802.3af compatible PoE (Power over Ethernet) devices
Standard Warranty
1 Year Limited