At just 100 mm long, the Ideacentre Stick 300 fits easily into the palm of your hand as well as
your
back pocket
. Powered by Windows 10, and with 2 GB of memory and 32 GB
of on-board storage, this little device packs a big punch.
Intel® Atom™ Processor
Fast browsing
, stunning visuals, and responsive performance were already
hallmarks
of this
series of quad-core processors. The
latest updates
are smaller and
more affordable
, but just
as powerful. Work when you need to, play when you want to – this pocket-sized PC's
processor will more than keep up.
Powered by up to Windows 10
Windows 10 is the best combination of the Windows you already know, plus lots of great
improvements you'll love. Technologies like InstantGo let you boot up and resume quickly
and everything runs fast and smooth.
All Windows
10 devices now have Battery Saver to
automatically conserve power – so you can work longer and play harder.
Looking to bring computing to new places? The Ideacentre Stick 300 is exactly what you're
looking for. It connects and transforms any HDMI TV or monitor into a
full PC
. It's great for
on-the-go client presentations, catching up with emails, watching movies, gaming, or simply
browsing the web
. All the convenience of everyday computing, but in an ultra-small format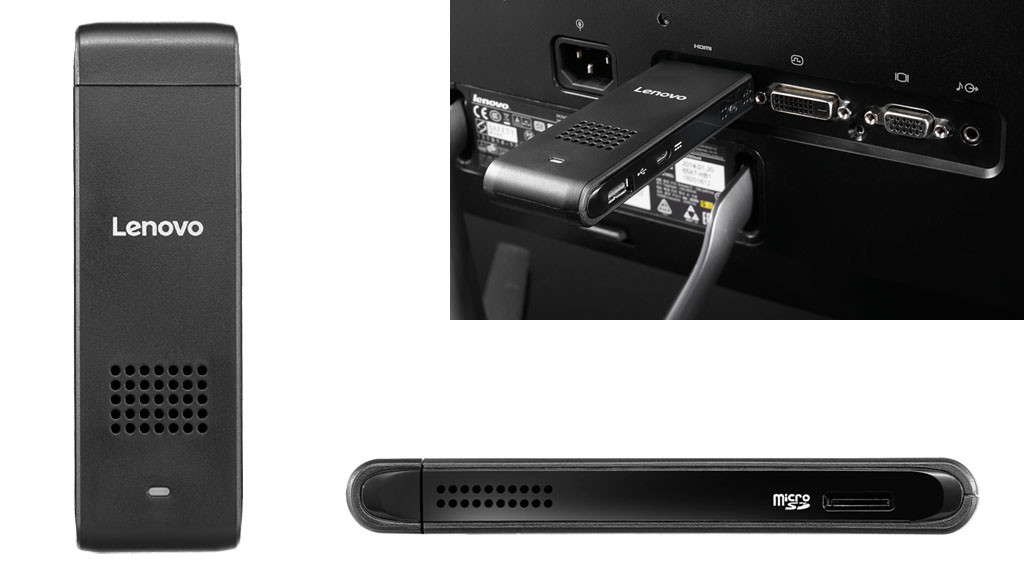 Great Connectivity at an Affordable Price Tag
The Stick 300 offers a wide choice of connectivity options. The device comes with WiFi
and Bluetooth just like a full-sized computer. It also boasts a mini HDMI and USB port to
connect peripherals, along with a microSD card slot for additional storage. At a fraction of
the size and cost of a normal PC, this pocket-sized device is well worth the investment.
Technical Specifications:
Processor
:
Intel Atom Z3735F Processor 1.33GHz (2M Cache, up to 1.83GHz)
Operating system
:
Windows 10
Graphics
:
Integrated Intel HD Graphics
Memory
:
2GB DDR3L-RS 1333 MHz
Network Card
:
Lenovo 802.11a/b/g/n Wi-Fi Wireless
Bluetooth
:
Bluetooth 4.0
Dimensions
:
3.94" x 1.50" x 0.59"
Ports
:
1 x HDMI-out, 1 x USB 2.0, 1 x Micro SD Slot, 1 x Micro USB (For Charging