Thursday, 21 February 2019
Lenovo Tab3 7 Essentials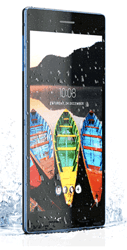 ---
Lenovo Tab3 7 Essentials
7-Inch IPS Display 600 x 1024 Resolution, Android 6.0 Marshallow, Mediatek Chipset, Quad Core 1.3Ghz, 5MP & 2MP Camera, 1GB RAM, 8GB ROM, WLAN, BLuetooth
Free Downloads

Pay only P 1,663 a Month for 3 months.
0% interest promo is available for locally issued credit cards
Card holder must transact inside an Asianic store to avail of the 0% promo
If you're looking for a tablet that's compact enough for use on-the-go and versatile enough to keep the whole family happy, the Lenovo Tab3 7 is the choice for you. Great for gaming and watching videos, this colorful, splash-proof 7" tablet handles multiple users easily and includes a safe mode for kids.
Technical Specifications: