Saturday, 18 January 2020
Logitech G27 Racing Wheel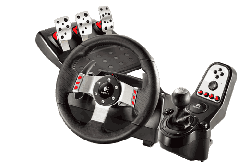 ---
Logitech G27 Racing Wheel
Force feedback, helical gearing, steel paddle shifters, rpm/shift indicator LED, real leather, stainless steel ball bearings, 900-degree steering
Free Downloads

Pay only P 1,694 a Month for 12 months.
Or pay only P 3,209 a Month for 6 months.
Installment promo is available for locally issued credit cards
Card holder must transact inside an Asianic store to avail of the installment
FORCE FEEDBACK
Be one with the car
Revel in the white-knuckle, hair-raising turns as you feel the tires lose traction and gleefully fly over every bump in the road. Custom dual-motor force feedback accurately simulates realistic racing action that will leave you breathless well past the checkered flag.
HELICAL GEARING
Listen to the silence
Enjoy the power of force feedback without the road noise thanks to smooth and quiet helical gears–similar to ones used in car transmissions.
STEEL PADDLE SHIFTERS
Semi-automatic transmission
Let your instincts guide you through the six-speed paddle shifters, finding just the right gears for hairpin turns or pedal to the metal straightaways.
RPM/SHIFT INDICATOR LEDS
Keep the rubber-side down
Winning comes down to fractions of a second, and knowing when to shift gears is critical for maintaining maximum speed. But since you also need to keep your eyes on the road, we designed the indicator panel to be easy to read at a glance.














REAL LEATHER
Get a grip
Enjoy the sensation and comfort of a real leather racing wheel gliding beneath your hands as you speed around the track.
STAINLESS STEEL
Built to last
Leave everything on the track without concern for the stress placed on the wheel—it's designed to take it. From solid steel ball bearings in the wheel shaft to quality construction throughout, G27 will provide superb performance and long-term reliability for every race.
900-DEGREE STEERING
Spin the wheel
Turn the wheel 2.5 times around lock-to-lock, just like a real car.
Part Number
941-000092

Warranty Information
3-year Limited hardware warranty
System Requirements
Windows® 8, Windows 7, Windows Vista®, or Windows XP
20 MB of available hard disk space
USB port
Internet connection for Software download
Package Contents
Force feedback racing wheel Gas, brake, and clutch pedals
Shifter module
Power supply
User documentation
Platform Compatibility
PlayStation®2 computer entertainment system
PlayStation®3 computer entertainment system
Games that support Logitech® force feedback racing wheel