Thursday, 13 December 2018
Logitech S100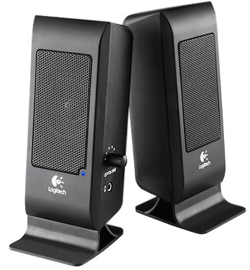 ---
Logitech S100
S100 speakers are a great value in a compact package. Easily control sound level using the convenient volume knob, or enjoy private listening using the audio headset jack. 2.0 Configuration, 2.5 W RMS per channel / 5 W peak power, Internal power supply, Volume and power buttons, Available 3.5 mm audio jack.
Availability: Phased Out
Free Downloads
Features
Logitech's new S-100 speaker system is the fist to be designed specifically to meet the PC integration market. With a clean Sea Grey color scheme and round edges, this speaker set will make any PC a complete offering for resale. Leveraging a blue LED to display power, the speakers are easily controlled with a convenient volume knob to the right side of the right speaker. In addition, if end users desired to have a private listening experience, just below the volume knob is the audio headset jack for quick setup of any 3.5mm headset plug.
Technical Specifications
Model
Brand
Logitech
Model
S100
General SPEC
Configuration
2.0
Satellite RMS Power / each
5.2W max power
2.6W RMS power (1.36W per speaker)
Dimension (L x W x H):
Satellite Speakers:80mm x 70mm x 183mm
Frequency Response
50Hz ~ 20kHz
Impedance
4 Ohms
Weight
1.75 Lbs
Inteface
Headphone Jack On Speaker, 3.5mm audio jack