Saturday, 07 December 2019
Romoss eUSB Edge 52 14,000mAH Laptop and Mobile Power Bank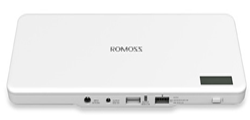 ---
Romoss eUSB Edge 52 14,000mAH Laptop and Mobile Power Bank
Light, Thin, Luxury. Best Mobile and Laptop Power Bank can Support Mobile phones, smart phone, tablets, Ipad, Samsung Tablet, 65W laptop and ultra book. 14,000 mAH Battery Pack, eUSB cable (18~20V), 8pcsT tips, 10pcs R tips, User manual. weight 445g.
Free Downloads

Pay only P 999 a Month for 6 months.
Or pay only P 534 a Month for 12 months.
0% interest promo is available for locally issued credit cards
Card holder must transact inside an Asianic store to avail of the 0% promo
Features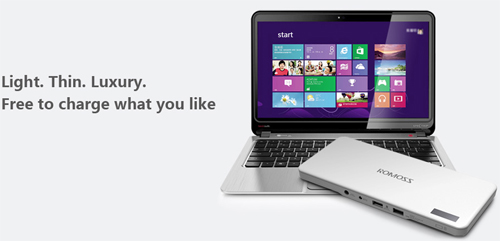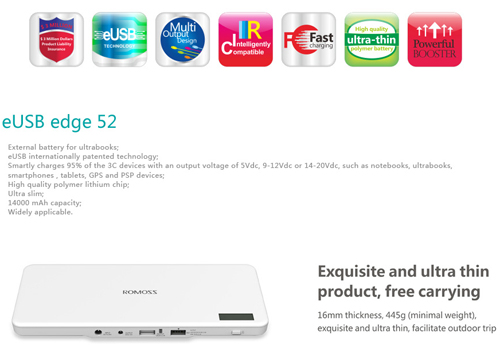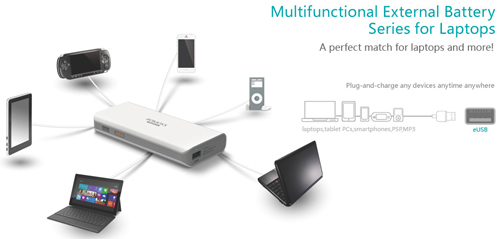 Technical Specifications
| | |
| --- | --- |
| Name | eUSB Edge 52 |
| Capacity | 14,000mAh |
| Model | PB52 |
| ID | PB52-103 |
| Weight | 445gm / 780gm with box and tips |
| Size | L210*W95*H16mmL8.66*W3.74*H0.63 Inches |
| Input | DC14~20V 3.5A |
| Output 1 | DC14~20V 3.5A / DC5V 2.1A |
| Output 2 | DC5V 2.1A |
| Accessories | eUSB cable (18~20V), 8pcsT tips, 10pcs R tips, User manual. |
| Color | white |
| Supporting Device | Mobile phones, smart phone, tablets, Ipad, Samsung Tablet, 65W laptop and ultra book. |