Saturday, 07 December 2019
Romoss eUSB Sofun 6 15600mAh Laptop Power Bank with iCharger 45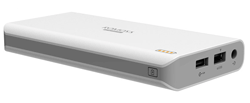 ---
Romoss eUSB Sofun 6 15600mAh Laptop Power Bank with iCharger 45
Power Bank Capacity: 15600mAh, Input:DC 15~20V 3.5A MAX, Output1 (eUSB): DC12-20V 3.5A / DC5V 1A(65W MAX), Output2: DC5V 2.4A, Support device: 65W laptop and ultrabook, mobile phones, smartphones, tablets, iPad, Power conversion rate up to 90%, Samsung SDI, Built-in Samsung cells, longer battery life,eUSB port enables charging different outputs. Included Romoss Icharger 45 AC Adapter and 15 Charging tips.
Free Downloads

Pay only P 470 a Month for 12 months.
Or pay only P 891 a Month for 6 months.
Installment promo is available for locally issued credit cards
Card holder must transact inside an Asianic store to avail of the installment