Saturday, 07 December 2019
Romoss Solo 9 20000mAH Triple Output Power Bank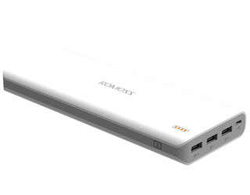 ---
Romoss Solo 9 20000mAH Triple Output Power Bank
Excellent performance 20,000mAH Battery Capacity, Highest degree of safety, Compatibility with all digital devices with 5V DC USB input, Weight 600g, Size 210*80*23mm, Input DC5V 2.1A , Triple Output, 1.DC5V 2.1A , 2. DC 5V 1A, 3. DC 5V 1A, Power 18W, Charging Time 13 hrs ( 2.1A Adapter Required )
Free Downloads
Features
Quick charge:
The reduction of time consumption by over 50% enables you to stay one step ahead of the competition.

Intelligent charge – discharge synchronization:
Simultaneous charging of the mobile power supply and devices contributes to convenient and time-saving operation.

Intelligent charging:
IR charger adaption technology provides compatibility with all digital devices with a 5V DC USB input.

Excellent performance:
The capacity of the original Battery cells has been restructured; a conversion ratio of over 85% ensures high quality.

Intelligent multiple protection system:
7 protection system will conserve energy, reduce the operating temperature, etc. To give you the highest degree of safety.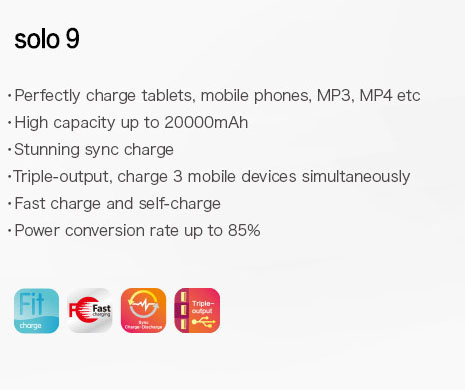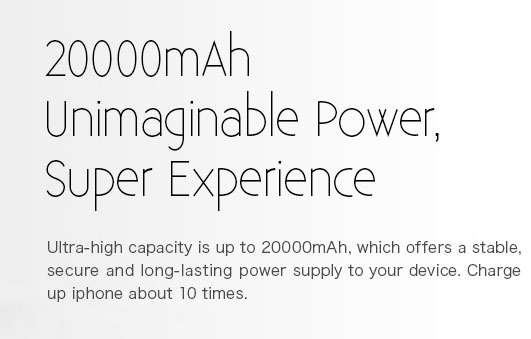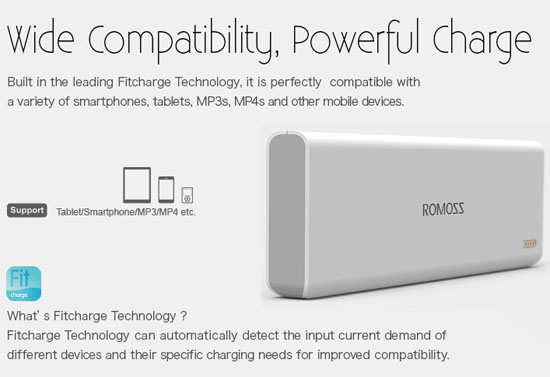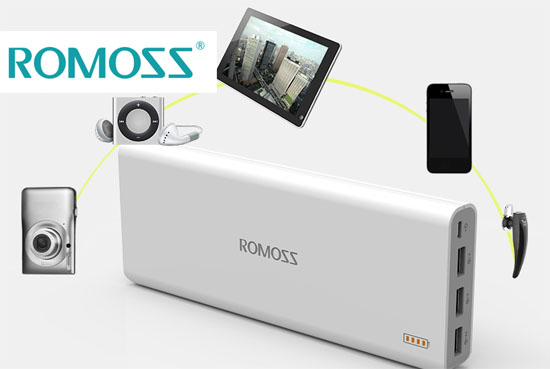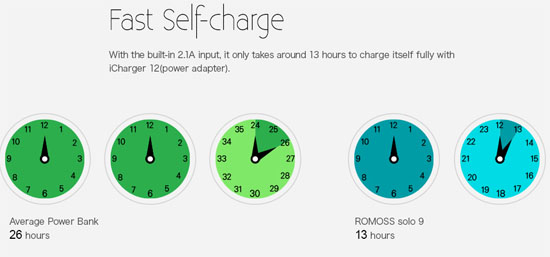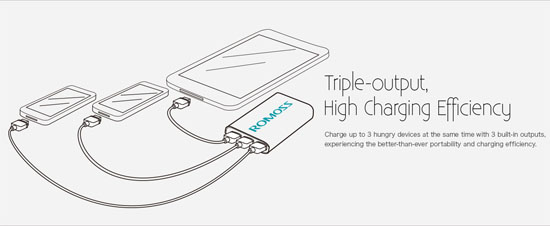 Technical Specifications
| | |
| --- | --- |
| Name | Solo 9 |
| Capacity | 20,000mAh |
| Model | PHA0 |
| Weight | 600g |
| Size | 210*103*212mm |
| Input | DC5V 2.1A MicroUSB 5pin |
| Output | 1. DC5V 1A, 2. DV5V 1A, 3. DC5V 2.1A |
| Power | 18W |
| Charging Time | 13hrs using 2.1A Adapter |