Accutone TB710 Professional Monaural Headset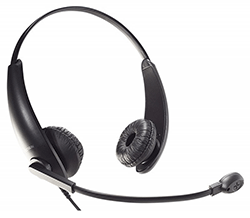 Accutone TB710 Professional Monaural Headset
Lightweight & Durable Headset, Comfortable Wearing, Award-Winning Design, Professional Acoustic Performance, Perfect Fit and Adjustments
Professional Telephone Headset
710 Series Key Features
Lightweight & Durable Headset. Weighing about 40 

grams (depending on the model), the 710 series is the 

strongest headset ever-built within the lightweight class.

Comfortable Wearing. Designed for all-day wearing, the 

headset is extremely comfortable, whether it is with the 

high-grade leatherette or foam ear cushions.

Award-Winning Design. Minimalistic design with elegant 

curves and well-built architecture gives the 710 a perfect 

combination of style and functionality.

Professional Acoustic Performance. Equipped with a 

proprietary 28mm voice-enhance speaker, and a choice of 

noise-cancelling aluminium boom or transparent 

Soundtube, call clarity for the 710 headset is excellent.

Perfect Fit and Adjustments. With an extendable metallic 

headband, rotatable earpiece and multi-adjustable 

microphone boom, the 710 fits users of all head sizes and 

preferences.

QD and ASP. Sound protection against sudden burst of 

incoming signal is protected by the Acoustic Shock 

Protection circuitry. Quick disconnecting cable provides 

convenience as well as flexibility in choosing direct cable 

connections.
Technical Specifications
Material
: 
Aluminum, ABS & POM
Headset Dimension
:
17.5 x 14.5 x 4cm
Speaker Size
:
28mm diameter speaker
Sensitivity
: 
105dB ±3dB (SPL/100mV@1K Hz)
Frequency Response
:
200~5000Hz
Microphone Dimension
:
6mm diameter x 5mm height
Microphone Sensitivity
:
-62dB ±3dB
Directivity
:
Noise-Canceling/Omni-Directional
Cord Length
:
1.5m (normal) 3.0m (extended)