Accutone WB610 Wideband Binaural QD5 Headset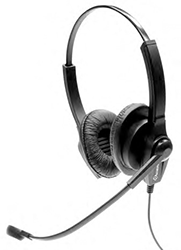 Accutone WB610 Wideband Binaural QD5 Headset
Considered the toughest headset in the market, the Accutone® 610 Series headset combines top level acoustics with enhanced durability for contact center professionals. The WB610 headset is equipped with a powerful 40mm speaker and a top-end proprietary noise-cancelling microphone to deliver unprecedented call clarity.
Availability: Phased Out

Pay only P 324 a Month for 12 months.
Or pay only P 615 a Month for 6 months.
Installment promo is available for locally issued credit cards
Card holder must transact inside an Asianic store to avail of the installment
Features
1. Unified Communication Compatible with Microsoft Lync Servers, Avaya & Cisco.
2. Wide band version designed for Avaya IP telephones as well as most other brands.
3.40mm powerful speakers for superb acoustic performance during wide band application.
4. Super strong structural design, perfect for industrial level extensive use.
5. Enlarged Leatherette ear cushion made from high grade material for the greatest comfort.
6. Double ear pieces for better concentration during calls.
7. Noise cancelling microphone with bendable boom arm to fit all face shapes and sizes.
8. Quick disconnecting cable to fit with the wide variety of bottom cables from Accutone.
Technical Specifications
High quality sound performance
Binaural style
Perfect for call centres
Large and comfortable leatherette ear cushions
Noise-cancelling
Quick disconnecting cable
CE approved