Acer Altos T310 F4 Intel Xeon E3-1225v6 KabyLake Tower Server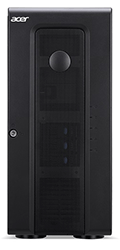 Acer Altos T310 F4 Intel Xeon E3-1225v6 KabyLake Tower Server
Intel® Xeon®CPU(PGA) Intel Xeon E3-1225v6 LGA 3.3G 8M 2133 1151 72W Kaby Lake (3.30 GHz, 8MB smart cache), (2x8 GB) 16GB DDRIV 2400, 1TB/7200 RPM Enterprise SATA, DVDRW, Fixed PSU – 650 W 80 PLUS® Gold-level fixed power supply

Pay only P 9,840 a Month for 12 months.
Or pay only P 18,635 a Month for 6 months.
Installment promo is available for locally issued credit cards
Card holder must transact inside an Asianic store to avail of the installment
Business Smart Investment
Driven by Intel® architecture, this tower server uses industry-leading 14nm processors that handle large workloads more efficiently. Flexible expansion slots, plus up to 16 TB hot plug HDD for data storage satisfy the demands of your growing business.
Server Class Hardware
The Altos T310 F4 is packed with dependable server-class hardware, including an integrated Gigabit Ethernet controller for speedy and safe data transmission, and built-in 6-channel SATA with software RAID 0, 1, 5 or 10 to ensure data security.
Easy use
This server provides comprehensive management utilities, front-panel system health LED indicators let you check the server at a glance.
Serviceability design
The Altos T310 F4 is designed with a tool-less and hot plug HDD bay chassis that enables easy component access, reducing maintenance and service costs. What's more, this tower server is equipped with an 80 PLUS® power supply for maximum energy efficiency.
Technical Specifications
Processor
:
Intel® Xeon®CPU(PGA) Intel Xeon E3-1225v6 LGA 3.3G 8M 2133 1151 
72W Kaby Lake (3.30 GHz, 8MB smart  cache)
Memory
:
(2x8 GB) 16GB  DDRIV 2400
Memory max. support
:
Registered  DDR4 ECC memory
Graphics
:
32 MB dedicated memory 
PCI Slots             
:
3.0 x8 (x16 connector)
Harddisk
:
1TB/7200 RPM Enterprise SATA
RAID
:
Intel® C232 chipset with RSTe RAID support, SATA RAID 0, 1, 5, 10 default 
Max. # Internal Disks supports:
Up to 4 x 3.5" SATA or up to 4 x 3.5" SAS 
Optical device
:
DVDRW
Gigabit Ethernet
:
Dual ports Gigabit Ethernet controller Intel I210AT 
Power Supply
:
Fixed PSU – 650 W 80 PLUS® Gold-level fixed power supply
Systemm Cooling
:
Active CPU heat sink
Form Factor
:
Extended ATX (12" X 13")   
Management System
:
Acer Smart Server Manager v1.3 b100 DVD
OS Support
:
Microsoft® Windows Server® 2016 
Microsoft® Windows Server® 2012 R2
Microsoft® Windows Server® 2012  
Microsoft® Windows Server® 2008 R2 SP1 
Red Hat® Enterprise Linux® 7.1
Novell® SUSE® Linux® Enterprise Server 12