Acer Predator Cestus 510 PMW810 Gaming Mouse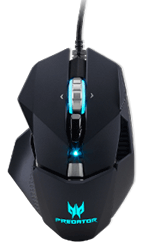 Acer Predator Cestus 510 PMW810 Gaming Mouse
The Cestus 510 is the next step in evolution. The 16,000 DPI, 400 IPS mouse promises a level of speed, comfort and precision that exceeds all expectations.

Pay only P 517 a Month for 12 months.
Or pay only P 980 a Month for 6 months.
Installment promo is available for locally issued credit cards
Card holder must transact inside an Asianic store to avail of the installment
Switch It Up
The Dual Omron® Switch Design offer up a lifespan of around 70M(50M+20M) clicks which…should keep you busy for the foreseeable future.
Built For Speed
What 16,000 DPI and 400 IPS (inches/second) mean to you is that this mouse is with you every step of the way. The DPI Indicator keeps you aware of your current setting so you can switch sensitivities in those clutch moments.
Make It Yours - Completely
With its height-swappable top cover, optional weights and adjustable right side panels—this mouse has been designed to find that ever-elusive, much sought-after ergonomic sweet spot.
Your Game, Your Way
Different games have different needs. Utilize the eight fully programmable buttons and five customizable profiles to tailor the mouse to you. Plus, with the on-board memory, it goes where you go.
Light It Up
Though the DPI Indicator remains a static blue, no elite gaming mouse would be complete without 16.8M RGB color options and eight different lighting patterns to choose from.
Plated, Braided - Protected
Wired mice must excel in all areas—especially their connections. The gold-plated USB connector and braided cord maintain that mint condition, first-day of purchase quality.
Speak to the QuarterMaster
Customize settings, such as lighting, button assignment and more via Predator Quartermaster to achieve the precision and accuracy one would expect from a mouse of this caliber.
Technical Specifications:
Form Factor
:
Gaming Mouse
Switch & lifespan
:
Dual Omron switch 
(50M + 20 M  clicks)
Polling Rate
:
1ms(1000Hz)
Color
:
16.8M RGB color
Software
:
Predator QuarterMaster
Optional weight
:
10g (5+5)