Acer Predator Galea 300 PHW810 Gaming Headset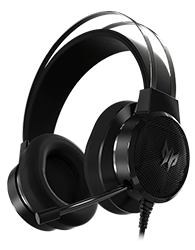 Acer Predator Galea 300 PHW810 Gaming Headset
Dive into the fight with heightened senses as the Galea 300 pumps crystal-clear sound directly to you. Comfort and communication has never felt so good. Adjustable Headband and Retractable Microphone. Gold plated connector with 16Ohm impedance.

Pay only P 564 a Month for 12 months.
Or pay only P 1,069 a Month for 6 months.
Installment promo is available for locally issued credit cards
Card holder must transact inside an Asianic store to avail of the installment
Cinema - Like Clarity
TrueHarmony™ and the bio-cellulose membrane driver with rubber surround give the Galea 300 the deep acoustic clarity that few others can match.
Don`t Hold Back
The extendable, omnidirectional mic makes sure your commands are heard clearly as you defy death and strategize over team chat.
Comfort Beyond Words
No tweaks necessary. Perfection has come in the form of a self-adjusting cushioned headband and extremely comfortable leather1 ear muffs.
Durability. Check
The TPU (Thermoplastic Polyurethane) cable jacket and gold-plated 3.5 mm connector mean one thing: this thing is going to last—just…don't get carried away…
Technical Specifications:
Form Factor
:
Gaming Headset
Speaker Driver
:
40mm Bio-Cellulose
Speaker Frequency
:
10-20000 Hz
Speaker Sensitivity
:
112 dB
Mic
:
Omni-directional
Mic Frequency
:
70-10000 Hz
Mic Sensitivity
:
-40 dB
True Harmony
:
TrueHarmony™
Surround Sound
:
Real Sound