Acer Predator XB252Q 24.5" Full HD Gaming Monitor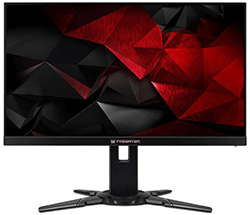 Acer Predator XB252Q 24.5" Full HD Gaming Monitor
Immerse yourself in the game with the Predator XB252Q bmiprz 24.5" 16:9 NVIDIA G-Sync LCD Gaming Monitor from Acer. This gaming monitor features a 240 Hz refresh rate along with a 1 ms response time to virtually eliminate ghosting and tearing when playing fast moving games. Additionally, the Acer Predator XB252Q supports NVIDIA G-SYNC technology, which syncs the frame rate of the monitor to your computers GPU to further enhance gameplay. Once the game us underway, Ultra Low Motion Blur technology helps to make images sharper while the dual built-in 2 watt speakers complete the in-game experience.

Pay only P 3,201 a Month for 12 months.
Or pay only P 6,063 a Month for 6 months.
Installment promo is available for locally issued credit cards
Card holder must transact inside an Asianic store to avail of the installment
Gaming Immersion
The Acer Predator XB252Q gaming monitor features a 24.5" Display with a Full HD (1920 x 1080) resolution. The Acer ErgoStand lets the monitor pivot, tilt, swivel, and move up or down, so you can find the most comfortable viewing angle. Its VESA compatible mounting offers a sleek, space saving option in tight spaces.
Enhanced Picture Quality
A fast response time of 1 ms enhances the in-game experience. Fast-moving action and transitions are rendered smoothly without the annoying effects of smearing or ghosting. 
Stay in your game for hours with EyeProtect's Flicker-less. Give your neck a break too, the ergonomic stand lets you find your most comfortable view with tilts from -5 - 20°, vertically adjust up to 4.5 inches and rotate up to 90°. 
This monitor is designed to handle high rates of data transfers and has high-bandwidth connection ports like HDMI and DisplayPort.
Smooth Gaming Action
Get the smooth gameplay with NVIDIA® G-SYNC technology designed to synchronize the refresh rate of the monitor with your GPU to eliminate screen tearing and minimize display stutter and input lag. The Predator XB252Q features comes clocked at 240 Hz, giving you even smoother gameplay without motion blur. 
Acer's Predator XB252Q also features Ultra Low Motion Blur (ULMB) technology, which makes moving objects appear sharper, without the annoying effects of smearing or ghosting. 
To complete the multimedia experience this Acer Predator monitor comes equipped with built-in dual 2 watt speakers.
Technical Specifications:
Max Resolution
:
1920 x1080 @ 240Hz
Viewing Angle
:
170° (H), 170° (V)
Input Signal
:
HDMI, DisplayPort, USB 3.0, Audio
Power Input
:
100 - 240V Internal Adapter
Wall Mountable
:
100 x 100 mm