Acer S1383 Large Venue Projector (ACRMRJK211.007-100)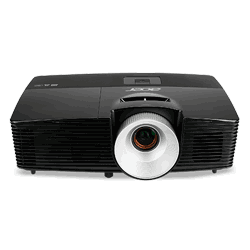 Acer S1383 Large Venue Projector (ACRMRJK211.007-100)
WXGA 1280 x 800 Resolution, 13,000 : 1 Contrast Ratio, 8000 Hours Lamp Life, Short Throw

Pay only P 6,478 a Month for 12 months.
Or pay only P 12,269 a Month for 6 months.
Installment promo is available for locally issued credit cards
Card holder must transact inside an Asianic store to avail of the installment
Compelling visuals
Even in bright rooms, your presentations will shine as brilliantly as your ideas. After prolonged projector use, colors and text will still be vibrant and crisp, thanks to Acer's advanced color technologies. Achieve perfect projection with keystone correction. You can also engage your audience more by projecting in 3D.1
Wireless works
Project wirelessly from your PC over a high-speed wireless connection.1 The built-in Acer eDisplay® app lets you project from Windows®, Mac®, Android®, or iOS™ devices.1 Use Acer eDisplay® and Acer BYOC™ apps to access your files on any internet-connected PC anywhere in the world.1 Plus, Crestron® compliance means you can control your projector wirelessly or via a LAN.
Handy tools
Don't interrupt yourself, simply press a button to activate 3D and other important functions. Acer SmartFormat lets you instantly project wide-format content. When you're done, Acer Instant Pack1 lets you unplug immediately. Side-loading and top-loading models make it easy to change lamps, even if the projector is hanging upside down from the ceiling.
Smart savings
Acer EcoProjection technology greatly increases lamp lifetime and decreases power use by as much as 90% -- to half a watt -- by going into standby mode when the projector is idle. Optional power-saving and auto-shutdown modes deliver even greater energy and cost savings. Your bottom line is better than projected. 
Technical Specifications:
Projection Method

Ceiling
Front
Rear

Video Compatibility

EDTV
HDTV
NTSC
PAL
SDTV
SECAM

Computer Compatibility

Mac PC
Windows PC

3D Capability

DLP 3D

Projection Lens

Lens Type

Manual Focus

Manual Zoom

Minimum Lens Aperture

F/2.5

Maximum Lens Aperture

F/2.6

Minimum Focal Length

21.86 mm

Maximum Focal Length

24 mm

Minimum Diagonal Image Size

685.80 mm

Maximum Diagonal Image Size

7.62 m

Minimum Projection Distance

1 m

Maximum Projection Distance

10 m

Optical Zoom

1.1x

Lamp

Lamp Type

OSRAM

Number of Lamps

1

Lamp Power

190 W

Normal Mode Lamp Life

5000 Hour

Economy Mode Lamp Life

6000 Hour

ExtremeEco Mode Lamp Life

10000 Hour

Image

Native Resolution

1280 x 800

Maximum Resolution

1920 x 1200

Standard Mode Brightness

3100 lm

Native Aspect Ratio

16:10

Compatible Aspect Ratio

16:9
4:3

Contrast Ratio

17,000:1

Throw Ratio

1.55 to 1.7:1

Digital Zoom

2x

Vertical Keystone Correction

-40°/+40°

Maximum Vertical Sync

120 Hz

Maximum Horizontal Sync

100 kHz

Minimum Vertical Sync

50 Hz

Minimum Horizontal Sync

30 kHz

Colour Support

1.07 Billion Colors (30-bit)

Audio

Number of Speakers

1

Speaker Output Power

2 W

Speaker Output Mode

Mono

Interfaces/Ports

Number of HDMI Ports

1

HDMI

Yes

USB

Yes

USB Connector Type

Mini-B

Composite Video

Yes

S-Video

Yes

VGA In

Yes

VGA Out

Yes

Audio Line In

Yes

Audio Line Out

Yes

Power Description

Power Supply

100 V AC~240 V AC

Input Voltage

120 V A
230 V AC

Operating Power Consumption

235 W

Operating Power Consumption (Eco Mode)

197 W

Physical Characteristics

Fan Noise

28 dB Approximate Economy Mod
31 dB Approximate Standard Mode

Temperature

0°C to 40°C

Humidity

80% Maximum Relative Humidity

Weight (Approximate)

2.50 kg

Form Factor

Ceiling Mountable

Miscellaneous

Optional Accessories

Dust Filter
iPhone/iPod Adapter

3D Glasses