Acer U5320W Ultra HD Short Throw Projector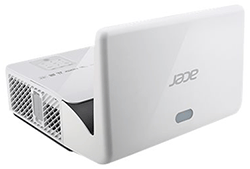 Acer U5320W Ultra HD Short Throw Projector
Acer's Education Series projectors portray clear, large images from either a distance, or when positioned conveniently close to the projection screen. This makes them ideal for use in education facilities or any smaller space. Bright Projector Lamp and High contrast ratios. Great Flexibility, from near or far and rich visuals.

Pay only P 7,061 a Month for 12 months.
Or pay only P 13,373 a Month for 6 months.
Installment promo is available for locally issued credit cards
Card holder must transact inside an Asianic store to avail of the installment
The Acer U5 Series can project a 77" image from an amazingly short distance of just 13 cm, thanks to a specialized projection optical route.Their high resolution makes for clear and detailed big screen images, while color enhancement features deliver vivid hues.The horizontal and vertical keystone correction will help with installation if you cannot place the projector directly in the middle of the screen and will enable you to still project in the centre of the screen.
The ultra-short-throw feature offers greater installation flexibility and viewing comfort, while 3D capability and color technologies deliver impressive presentations and immersive learning. And to enhance productivity, networked management tools provide remote monitoring, control and reporting systems.The 4 Corner Correction feature will help your image fit the screen perfectly. As a widescreen projector, the U5320W will be suitable for most things from basic data to movies. It will give you a clear and sharp image. This is a short throw projector so you can project a large image from a small distance from the screen. This is great if you are limited on space and as a short throw it also eliminates shadows on the screen. When presenting you do not get the light beaming into your eyes.
Technical Specifications:
Image
Native Resolution

:

1920 x 800
Maximum Resolution

:
1920 x 1200
Standard Mode Brightness

:

30
00 lm
Native Aspect Ratio

:

16:10
Compatible Aspect Ratio

:

16:9
Contrast Ratio

:

13
,000:1
Throw Ratio

:

0.37:1
 (2209.80 mm@350 mm)
Vertical Keystone Correction

:
-15°/+15°
Horizontal Keystone Correction

:
-15°/+15°
Maximum Vertical Sync
:
120 Hz
Maximum Horizontal Sync

:
100 kHz
Minimum Vertical Sync

:
24 Hz
Minimum Horizontal Sync

:
15 kHz
Colour Support

:
1.07 Billion Colors (30-bit)
Projection Lens
Lens Type

:
Manual Focus
Maximum Lens Aperture

:
F/2.53
Maximum Focal Length

:

5.38
 mm
Minimum Diagonal Image Size

:

1778
 mm
Maximum Diagonal Image Size

:

3.05
 m (120")
Minimum Projection Distance

:

220
 mm
Maximum Projection Distance

:

630 
mm
Lamp
Normal Mode Lamp Life

:

3
000 Hour
Economy Mode Lamp Life

:

4
000 Hour
ExtremeEco Mode Lamp Life

:

6
000 Hour
Interfaces/Ports
USB Connector Type

:

Mini-B
Total Number of HDMI Ports

:

2
Technical Information
Projection System

:
DLP
Projection Method

:
Ceiling, Rear Ceiling
Video Compatibility

:

EDTV, HDTV, NTSC, PAL, SDTV, SECAM
Computer Compatibility

:
Mac PC
Audio
Speaker Output Power

:

10
 W
Speaker Output Mode

:

Stereo
Ethernet (LAN) Capability
:
Crestron eControl
Power Description
Power Supply

:
100 V AC~240 V AC
Input Voltage

:
120 V AC
Operating Power Consumption

:
299 W
Operating Power Consumption 
Physical Characteristics
Fan Noise

:

27
 dB Approximate Economy Mode
33 dB Approximate Standard Mode
Temperature

:
0°C to 40°C
Humidity

:
80% Maximum Relative Humidity
Weight (Approximate)

:

5.50
 kg
Form Factor

:
Ceiling Mountable
Desktop Usability

:

No
Miscellaneous
Package Contents
:
U5320W DLP Projector
Battery for Remote Control
Optional Accessories
:
3D Glasses (MC.JFZ11.00B)
WirelessCAST (MWA3) (MC.JKY11.007)
Ceiling Mount (60.JL1J3.015)
WirelessHD-Kit (MC.JKY11.009)
Smart Touch Kit (MC.42111.001)