Pay only P 2,448 a Month for 12 months.
Or pay only P 4,636 a Month for 6 months.
Installment promo is available for locally issued credit cards
Card holder must transact inside an Asianic store to avail of the installment
Features
The new ACROSS AIO215 series all-in-one desktop is powered with Intel Core i3 2120 2nd Generation processor that accomplishes all your basic personal or official tasks at a processor speed of 3.30 GHz. It comes with 2 GB DDR3 RAM and remarkable 500 GB of hard disk capacity to store all your essential documents or files; music and movies; photo albums and videos. As an emblem of durability, power and style, is the best possible alternative at your doorstep with updated entertainment features, budget-friendly system with sufficient memory storage capacity. However, it is equipped with 21.5 inch LED screen that delivers you an ultimate experience of viewing stunning images and clear cut movies. In addition, you can also do video chatting on this desktop through its built-in webcam and could even connect to your online network through Wi-Fi-connectivity.


Flexibility and Stylish Slim All-in-One DesktopThe ACROSS AIO215 is One of the Best All-in-One Slim and Stylish Desktop in Market Now. It is the ideal PC for families wanting an interactive multimedia device, a PC that fits in any room, is attractive enought to place anywhere and is easily accessible. It's also solid enough to stand up to all the fun you and your family have planned for your new Across AIO215. It's a PC that looks more like a TV and performs like an entertainment center all in one.
The Across AIO215 All-in-One Desktop solution supports components from any supplier complying to our product's form factors (Intel®'s AIO Mini-ITX standard, slim ODD bay, 3.5'' SATA bay, etc.).




PC for entertainment
You have all these cool games, movies, music and videos. A small screen in a remote room isn't quite the ultimate cinematic experience. Choose ACROSS AIO215 and you have just ventured into an entirely new, HD entertainment zone. It's so slim and discrete you can place it in anywhere. Display like a TV in your family or living room or turn your room or dorm into a sweet multimedia haven. Share it with family, friends or keep it all to yourself, we won't tell.
The ACROSS AIO215 solution is ready for future upgrades and covers you from obsolescence risk. Our solution is designed to be versatile and thus economic in handling.

Sandy Bridge Micro-Architecture
Family and budget-friendly-Looking for a PC to share? Then you probably have a long list of needs and wants from your eager family. And then there's the budget to factor in. If multimedia, a PC the whole family can use, easy accessibility and clean design are on high on the list, ACROSS AIO215 is the ideal solution.
The ACROSS AIO215 supports Intel®'s new 32nm microarchitecture and the LGA 1155 socket, allowing our product to operate with the new Intel® Core™ processor family, which brings, among others, a 25% performance improvement and lower power consumption compared to the previous CPU generation.

New USB 3.0 Ports

The ACROSS AIO215 includes two USB 3.0 ports, enabling superfast transfer rates of up to 5Gbs. This new technology will make users experience a speed about 10 times faster than the previous USB 2.0, with which USB 3.0 ports will still be compatible. Moreover, USB 3.0 also delivers a 9 times bigger power transfer, which means a much faster charge of external devices such as cell phones, MP3 players, and so on.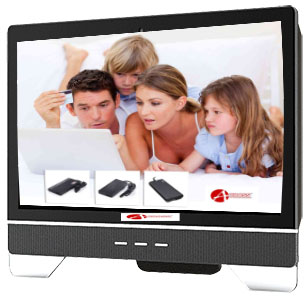 Technical Specifications
General
Free DOS
Intel Core i3 2120 2nd Gen.
Processor Cache
3 MB
3.3 GHz
Intel HD Graphics
500 GB
SATA
2 GB DDR3
DVD-Writer
21.5.0 Inch
1600x 900 Pixel
Wide LED Display
Input
Yes
Wired Keyboard
IEEE 802.11b/g/n
Audio
Yes
Yes
HDMI

• Core i3 2120 Processor

• 2 GB RAM

• 500 GB HDD

• 21.5 inch HD screen

• Free DOS

• Intel HD Graphics

In Package
All In One Desktop, Mouse and Keyboard, Power Cord
Warranty
1 Year Across Warranty