Across GigaLink N5 Bare Home NAS Media Center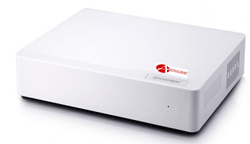 Across GigaLink N5 Bare Home NAS Media Center
Economical Solution For Home Media Center, Optional Storage of 500GB, 750GB, 1Tb and 2 Tera Bytes Capacity, Support iTunes media server, sharing your media at home for Apple devices, Support Mobile access from iPhone, Ipad, Android smartphone and tablet in local area network, Cloud storage for PC, Android smartphone, tablet, iPhone, iPad via internet, Support File Server, FTP server, Samba Server, Bittorrent and PT download
lawrence

Pay only P 376 a Month for 12 months.
Or pay only P 713 a Month for 6 months.
Installment promo is available for locally issued credit cards
Card holder must transact inside an Asianic store to avail of the installment
Features
The Economical solution for your Home Media Centre!
ACROSS Gigalink N5 with optional Storage of 500GB, 750GB, 1Tb and up to 2Tb Capacity is the new generation for network storage devices. This device adopts the latest network and storage techniques that will let you sync with your mobile, tablet PC's, laptop and/or computers that will let you upload our photos, multimedia files to this network at anytime and anywhere.
This is an ideal multimedia storage centre for your family. It lets you obtain the most affordable and useful functions at the lowest cost. With its simple interface, it integrates the most common functions, making the less tech savvy family member use it with ease and quickly. The white sleek, simple, and stylish design will make sure that everyone will fall in love with this device, and you will too!
ACROSS Gigalink N5 Home NAS Media Centre, Media And Cloud Storage for PC, Smartphone and Tablet
Economical Solution For Home Media Center
Optional Huge Storage of 500gb, 750gb, 1TB up to 2 Tera Bytes Capacity
Support iTunes media server, sharing your media at home for Apple devices
Support Mobile access from iPhone, Ipad, Android smartphone and tablet in local area network
Cloud storage for PC, Android smartphone, tablet, iPhone, iPad via internet
Support File Server, FTP server, Samba Server, Bittorrent and PT download
Technical Specifications