Across GP-550PFC 550W With PFC Gaming Power Supply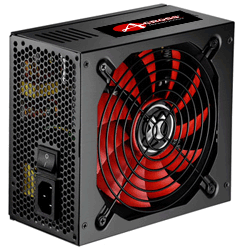 Across GP-550PFC 550W With PFC Gaming Power Supply
550W power supply, Compliant with ATX 12V version 2.2, Compliant with latest multi-core CPU motherboards and high-end graphic cards, Dual 12V rails design provides independent output currents for CPUs and other vital PC components to ensure stable PC performance, VOLTS:ATX 12V, FAN:1, SATA:YES, 6 Pin pci-e connector, Quiet mode Technology
Features

The Across GP-550PFC Gaming power supply is designed to please demanding gamers and other power users. Its Meshed cabling system allows maximum flexibility in managing your power cables. exciting design, latest technology and top quality. In the current version, This New designed Across GP-550PFC power supply series has been completely revised. The results are not only impressive due to the high-efficiency technology, but also due to the new design and even better equipment. The Across Gaming Edition power supplies offer enough performance for any gaming system and provide sufficient connectors for the Gaming systems. Due to the increased energy efficiency, the power packages are even cooler and quieter.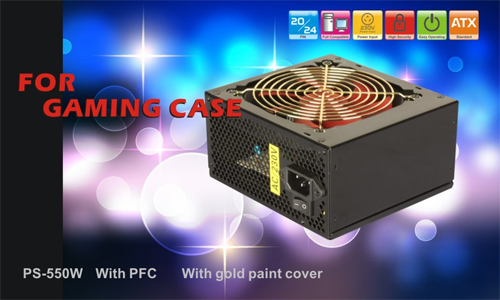 Its 12cm ultra silent fan with intelligent temperature controller provides an enhanced air flow inside your system. No matter what your budget, your PC's power supply shouldn't go before its time. Across GP-550PFC Series PSUs are built with carefully selected components to deliver a temperature rating of 40° C, for years of service in punishing environments. The fan uses a double ball bearing design to help ensure that it lasts as long as the internal circuitry.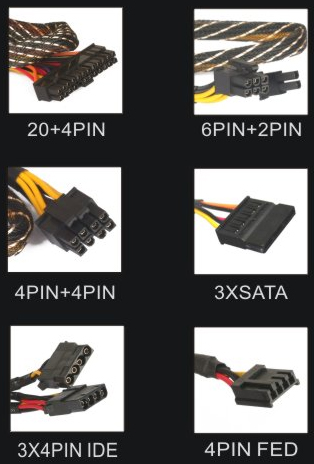 A good gaming power supply must provide the cooling you need when you're pushing it hard, but it should be quiet when you're not. Across GP-550PFC Series PSUs accomplish this through excellent efficiency, it generates less heat, so it requires less cooling, and a Good Quality 120mm fan that adjusts its speed to meet demand. It's built under the latest ATX 12V 2.2 standards with PFC and awarding winning High Efficiency design to make sure it deliverers the maximum performance and reliability.
The Across GP-550PFC Series PSUs are build-friendly, with enough connectors to power just about any gaming rig you can imagine, and extra-long cables for full-tower case support and creative cable routing. It fits any ATX PC case, and works with ATX, Micro ATX, Mini ITX, and E-ATX, and all other ATX-compatible motherboards.