Across KM-2003 Slim USB MultiMedia Keyboard

Across KM-2003 Slim USB MultiMedia Keyboard
Super Ergo Slim design Multimedia Keyboard, with 4 multimedia Internet Hot key on the top of the keyboard, slim Design, soft touch, best for Home and Office applications.
Features
- Convienient Swift Ergonomic Multimedia Slim Design.
- Slim Design to Saves Work space.
- Nice comfortable quite button, smooth touch Waterproof keyboard.
- 4 Multimedia Key-top design.
- Compatible with windows 98/me/nt/2000/xp/vista and Windows7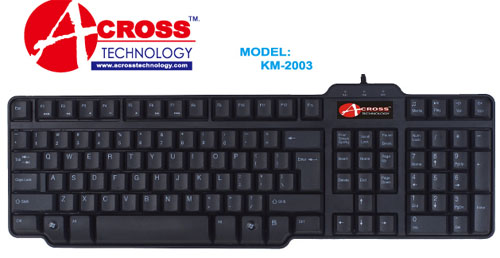 Play            - Switch between playing and pausing Media.
+ Volume    - To Increase the playing sound volume.
- Volume    - To Decrease the playing sound volume.
Media        - Press this to Mute sound, Press again to resume sound.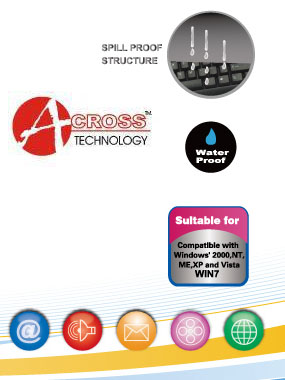 Technical Specifications
Modell
Brand
Across
Name
KM-2003
Keyboard Connection Type
Keyboard Interface
USB
Keyboard SPEC
Design Style
Slim Desktop Multimedia
Multimedia Keys
4 multimedia and internet hot key
Normal Keys
108
Operating Systems
Windows 2000/XP/XP x64/Vista, Windows 7
Keyboard Color
Black
Peak Force
55g
Life Cycle
10,000,000 times
Power supply
5.0vDC, 200mA(max)
Dimension
486 x 198 x 33 mm
Switch travel distance
4.0 mm
Wireless
Type
Wired