Adata SU650 120GB M.2 2280 SATA Solid State Drive SSD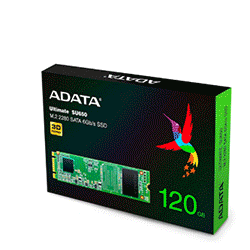 Adata SU650 120GB M.2 2280 SATA Solid State Drive SSD
The ADATA Ultimate SU650 M.2 2280 SSD features 3D NAND Flash, a high-speed controller, and up to 480GB capacity. It delivers read/write performance of up to 550/510MB/s and greater reliability than 2D NAND SSDs. The SU650 sports SLC caching and advanced LDPC ECC technology to ensure optimized performance and data integrity.
Technical Specifications:
Upgrade with 3D NAND. It's a No Brainer!
Enjoy Boosted Performance
Great for Desktops and Notebooks
Advanced LDPC ECC Technology
SSD Toolbox and Migration Utility
Performance (Max):
Read: 550MB/s Write: 510MB/s
Dimensions (L x W x H)
80 x 22 x 3.5mm
Read: 550MB/s Write: 510MB/s
*Actual performance may vary due to available SSD capacity,
system hardware and software, and other factors
Operating temperature
0°C - 70°C
Storage temperature
-40°C - 85°C
Shock resistance
1500G/0.5ms