ADI-QnE RT-8250 POS Basic Retail Solution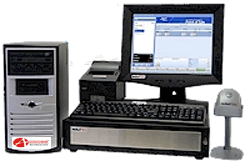 ADI-QnE RT-8250 POS Basic Retail Solution
For small and medium-size independent retailers, ADi-QnE POS Basic Retail System is an easy-to-use, affordable way to automate your single business. It can help you manage your operations more efficiently, saving you time and money.ADi-QnE Basic Retail Software, EpsonTMU-220D Impact Receipt Printer, Long Range CCD Scanner, Compact Size Cash Drawer, POS Computer System with 16" LCD Monitor
Availability: Phased Out

Pay only P 9,368 a Month for 12 months.
Or pay only P 17,742 a Month for 6 months.
Installment promo is available for locally issued credit cards
Card holder must transact inside an Asianic store to avail of the installment
Features
The ADi-QnE POS Basic retail packages combine the ADi-QnE Basic Business software with quality point of sale hardware components. These packages are best suited to small, single store retailers.
The ADi-QnE Basic Business software is an easy-to-use point of sale application that enables you to track sales, inventory, customer information and improve customer loyalty. Designed to replace a cash register, ADi-QnE Basic Business Solution saves time and money, automating stores at an affordable price while adding many vital features that will assist you in taking tight control of your business empowering you to make smarter business decisions.
* (1) ADi-QnE Basic Business Software
* (1) Epson TM-U220D Impact Receipt Printer
* (1) Long Range CCD Scanner
* (1) Compact Cash Drawer
* (1) ACROSS POS Computer System
* (1) LCD Flat Panel 16" Monitor
Technical Specifications:
ACROSS POS RT-8250 Desktop System
Microprocessor
Intel Core Duo E2140
1.6 GHz
Processor Bus Speed
800MHz
Cache
256 KB Transfer Cache
Memory
1GB DDR2
Expandability
expandable up to 4.0 GB (2 Memory Slots, 1 Available)
Memory Speed
667MHz
Audio
integrated stereo sound system. 2.1 Surround Sound Ready
Hard Drive
160.0 GB IDE / SATA
Optical Drive
"DVD writer 20x
CD: 52x write; 32x-rewrite; 52x read max speed ,DVD write 20x"
Video Graphics
Integrated Graphics
Video Memory
Up to 64MB shared video memory
Communication
none
Networking
Integrated 10/100 BaseT network interface (Broadband Ready)
Floppy Drive
none
Operating System
Windows XP Home
I/O Ports
4 USB 2.0, 2 PS/2, 1 Parallel, 1 Serial, Line-in, Line-out, Mic-in, LAN
Display Screen
16" LCD Monitor
Keyboard
Across PS/2 Keyboard
Mouse
AcrossOptical, 2-button PS2 scroller mouse
Total Expansion Slots
1 PCI-e, 2 PCI
Applications
Avast Anti-Virus, Open Office
Power Supply
Across 500 Watts

ADi-QnE POS RT-8250 Basic Retail Solutions
| | |
| --- | --- |
| Software | ADi-QnE Basic Business Solution |
| License | 1 User |
| Barcode | CCD Barcode Scanner |
| Retail Display | Pole LED Display |
| POS Printer | Epson TM-U220D Receipt Printer |
| Drawer | Compact Cash Drawer |