Alcatroz Jellybean A2000 Wireless Keyboard and Mouse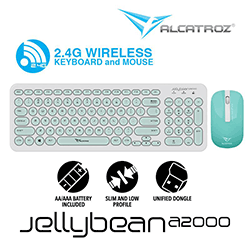 Alcatroz Jellybean A2000 Wireless Keyboard and Mouse
96 unique rounded soft and silent keys. UV coated slim and low profile keys. Same 1200 CPI optical sensor for the mouse but different shape this round.Jelly Bean A2000 has totally same keyboard minus the wire.
Jelly Bean A2000 keyboard performance is the same as U2000. As expected, key strokes are quiet. You won't hear much noise unless you are hitting it really hard. Again, typing experience is good once you get used to the round keycaps. Learning curves is there since the insert, delete and direction keys are not in their usual location. Example, Ins and Del are on top right corner. And others in Fn mode near numpad. Direction keys are a lot smaller than usual.
Same like the keyboard, there is learning curve on the mouse as well due to slimmer than usual mouse. Optical performance is good. Working correctly on multiple surfaces including slightly shinny and reflective ones. Wireless range is working up to around 6m by the way.
Features
Keyboard
2.4G Wireless Keyboard
Slim and low profile, Unified Dongle
96 unique rounded soft and silent keys with multimedia shortcut keys
The soft and silent keystrokes give a unique typing experience
UV coated keypads – Ensures longer durability of the keypad lettering when compared with conventional silkscreened keyboards
Mouse 
2.4GHZ Wireless Mouse
Hi-definition 1200CPI wireless optical mouse
Responsive and durable switches
Technical Specifications
Keyboard and mouse wireless distance: Up to 10 meters
Alkaline battery included: Battery life up to 2 – 3 months
Keyboard actual size: 385.5 X 134.8 X 28mm
Mouse actual size: 100.5 X 60 X 35mm