Alcatroz Trilium BTR1 Ultra-slim Bluetooth Keyboard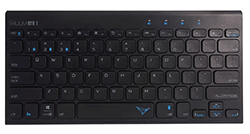 Alcatroz Trilium BTR1 Ultra-slim Bluetooth Keyboard
The Trilium BTR 1 is a Bluetooth wireless keyboard that essentially lets you pair it with up to three different devices simultaneously. The Alcatroz Trilium BTR 1 is a must-have if you're an owner of multiple electronic devices. It's compatible with so many platforms. With the capability to Multi-Pair, you can switch between devices easily. This is a plus since it makes multi-tasking easy.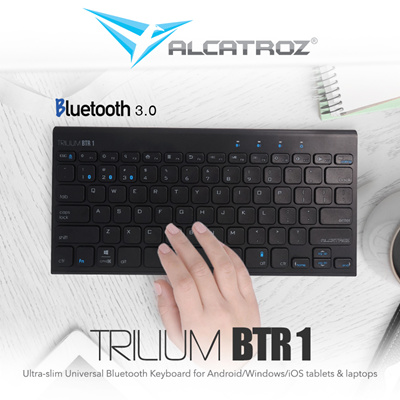 The Trilium BTR 1 comes in two different colors that you can pick from – black or white. It's tenkeyless and that means it does not come with a num pad. On the bottom side of the keyboard, you can find the power button that powers the keyboard. Each corner is equipped with anti-skid rubber pads and they are actually really strong. The keyboard stays in place if you place it on the table. This is a welcome bonus since I find myself pushing my wired keyboard around a lot when I game. The Trilium BTR 1, however, stays perfectly in place through even the most intense and action-packed moments.
As mentioned previously, the base is made of solid stainless steel and the keycaps are UV coated. I have the white version of the keyboard and it looks amazing. It's a tiny detail but pairing both the white and black version with blue on the keycaps really makes the color pops. I'm all about that aesthetic and I really like the design of the keyboard. It's definitely a plus point for me to match its functionality.
Technical Specifications
Bluetooth Specifications: Bluetooth 3.0
Dimensions: 281.7 X 135 X 14 MM
Operating Range: Up to 10 meters
Modulation System: GFSK
Standby time: 90 days
Charge time: < 4 hours
Uninterrupted Work Time: 90 hours
Lithium Battery Capacity: 280 mAh
Lithium Battery Life: 3 years
Key Life: 3 million clicks
Front side of keyboard: ABS
Back side of keyboard: Stainless steel