Alcatroz Xplorer Dock 2 Bluetooth Keyboard Touchpad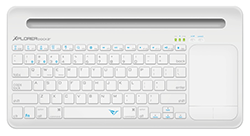 Alcatroz Xplorer Dock 2 Bluetooth Keyboard Touchpad
It's a portable mini keyboard which you can use along with your devices such as laptop, computer, tablets, smartphones (both Android and iOS) too. The Xplorer Dock 2 allows user to dock their tablets/smartphones on the keyboard so it acts as a monitor. This provides 2 benefits: Frees up the screen from displaying the touch-screen keyboard and allows typing of content on keyboard much faster and convenient! It can simultaneously connects to 2 Bluetooth devices at the same time, and can be switched between them by a toggle button.
The keyboard itself uses the same laptop keyboard layout. The difference between this keyboard and laptop keyboard is the gap between each keyboard buttons. I find it slightly narrow on the Xplorer Dock 2 BT keyboard as the buttons here is slightly larger. As a touch typist, I can type on this pretty quickly and fairly easily without making much mistakes. My only gripe is that is difficult to reposition the fingers by feeling the buttons and the gaps between them. The keyboard also provides a function key that allows user to access multimedia shortcut keys (e.g. play/pause/mute/skip/previous music track, increase-decrease volume and etc.) It includes a toggle button to turn keyboard on/off and switch between 2 Bluetooth devices.
The bottom of the keyboard displays the serial number which is used for the warranty purposes. In addition, it has 4 mini rubberized feets that prevents the keyboard from slipping.
Features
Extremely durable, rated at up to 5 million keystrokes
78 UV coated chiclet keycaps
Ultra-slim and portable
Pair up to two devices simultaneously
Multi-touch trackpad
Technical Specifications
Bluetooth V3.0
Wireless operation distance: up to 10 meters
Battery capacity: 280 mAh
Standby time: About 150days
Usage time: About 50 hours
Charge time: 2 hours
Keyboard Dimension: 320 x 160 x 18mm
Weight: 610g
Supports PC System: Windows 2000/XP/7/8/10.
Supports Tablets/Smartphone: Windows 6.5/7/8/10, Android 4.0 and above, iOS 3.0 and above.