AMD Ryzen 7 3700X Up to 4.4GHz 8 Core 16 Threads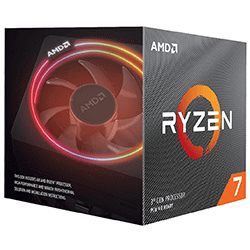 AMD Ryzen 7 3700X Up to 4.4GHz 8 Core 16 Threads
AMD Ryzen 7 3700X Up to 4.4GHz 8 Core 16 Threads AM4 Socket with Wraith Prism with RGB LED Processor

Pay only P 1,845 a Month for 12 months.
Or pay only P 3,495 a Month for 6 months.
Installment promo is available for locally issued credit cards
Card holder must transact inside an Asianic store to avail of the installment
AMD Ryzen 7 3700X processor is designed to offer dominant gaming, designing and streaming performance with a balanced design for serous PC enthusiasts. The Octa core processor is designed to rip through the games at highest of graphics settings when paired with an equally capable graphics card.
    Ryzen 7 3700X comes with good 16 threads which would enable fast creative workloads. Applications and tasks involving web-browsers, Web Servers, games, Text editors, IDE's would benefit in a positive way with enhanced performance, reduced render times and seamless designing.
    The unlocked processor has a base clock speed of 3.6 GHz with Max Boost Clock of 4.4 GHz. It comes with Wraith PRISM Thermal Solution with the added RGB adding the extra zing to the setup all making sure the processor is cooled sufficiently which ensures stable performance even when the processor is handling intensive tasks.
    All this paired with 36Mb of combined cache with L1 of 64 Kb, L2 of 4Mb and L3 cache of 32Mb for rapid access to large data sets. The massive Game Cache memory on-board translates to superior game performance even when everything is set to max. Enhanced VR Gaming performance and seamless streaming.
    It has a TDP rating of 65W with dual channel DDR4 support for up to 3200Mhz. It processor is recommended to go with X570 Chip set with a Ryzen ready AM4 compatible motherboard.
# of CPU Cores : 8
# of Threads : 16
Base Clock : 3.6GHz
Max Boost Clock Learn More.
Total L1 Cache : 512KB
Total L2 Cache : 4MB
Total L3 Cache : 32MB
Unlocked : Yes
CMOS : TSMC 7nm FinFET
Package : AM4
PCI Express® Version : PCIe 4.0 x16
Thermal Solution (PIB) : Wraith Prism with RGB LED
Thermal Solution (MPK) : Wraith PRISM