APC M10WH Mobile Power Pack, 10000mAh Li-Polymer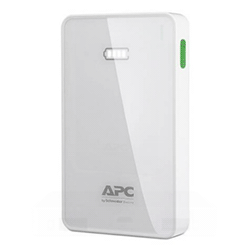 APC M10WH Mobile Power Pack, 10000mAh Li-Polymer
Mobile Power Packs Features & Benefits
Compatibility
Mobile device compatible
Mobile power packs recharge all devices that connect to power using a USB cable, including your mobile phone, tablet, audio player, handheld gaming console, and e-reader.
Convenience
LED battery charge indicator
Push-button activated LED display provides battery charge status.
Availability
Efficient charging
Extends the Mobile Power Pack's battery life by automatically shutting down when the connected devices have completely charged.
Technical Specifications
Output
Battery Capacity (mAh)
10,000
Battery Output Voltage
5V
Input
Batteries & Runtime
Battery type
Lithium Polymer
Battery Volt-Amp-Hour Capacity

37
Physical
Maximum Height
146MM, 14.65CM
Maximum Width
88MM, 8.89CM
Maximum Depth
13MM, 1.35CM
Shipping weight
0.34KG
Shipping Height
230MM, 23.0CM
Shipping Width
128MM, 12.8CM
Shipping Depth
22MM, 2.2CM
Environmental
Operating Temperature
0 - 35 °C
Operating Relative Humidity
0 - 95 (no %
Operating Elevation
0-900meters
Storage Temperature
0 - 50 °C
Storage Relative Humidity
0 - 95 (no %
Storage Elevation
0-900meters
Conformance
Approvals
BSMI, CE Mark, EN/IEC 60950-1, FCC Part 15 Class B
Sustainable Offer Status
RoHS
REACH:
Contains SVHCs
Battery Directive
Compliant