Armaggeddon AMG FUZE 5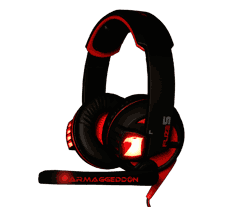 Armaggeddon AMG FUZE 5
Armaggeddon's FUZE series of headsets which command both 5.1 and 7.1 digital surround sound.The Fuze series strikes a good balance between the treble, midrange, and bass frequencies - this produces rich details that contribute to an immersive sound stage. Colors: Yellow, Scarlet, Alpine
Armaggeddon's FUZE series of headsets which command both 5.1 and 7.1 digital surround sound.
The Fuze series strikes a good balance between the treble, midrange, and bass frequencies - this produces rich details that contribute to an immersive sound stage.
On top of all that, the Armaggeddon Fuze drivers are capable of pumping out extra bass that you hear AND feel to complete your ultimate gaming experience.
The unidirectional mic captures your voice while ignoring background noise so that your every battle command is clear as day.
Headphones:
Frequency response: 20Hz ~ 20KHz
Impedance: 32 Ohms (Ω)
Sensitivity: 115dB SPL @ 1KHz
Rated power: 20mW
Driver size: 50mm
Total numbers of drivers built-in: 2
 
Microphone:
Noise cancellation
Frequency response: 16Hz ~ 20000 Hz
Sensitivity: -38db
Signal-to-Noise ratio: ≥60% ~ 80%
 
Other Specifications:
Audio and microphone jack: USB 2.0 gold plated
 
Software Included:
Up to 7.1 Adjustable speaker angle and positioning
Manual equalization with DB slider
                 
System requirement:
PC: Window XP, Win Vista, Win 7, Win 8, Win 8.1
1 x USB port
CD-Rom: to install software driver