Armaggeddon Atom 5 Gaming Headset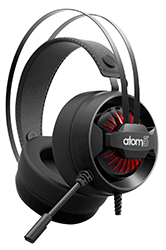 Armaggeddon Atom 5 Gaming Headset
Atom 5. It is loaded with 5 colour lighting pulsating effect, 2.1 stereo sound, omnidirectional mic, ultra-durable kevlar reinforced cable, perfect for long-wearing comfort and 50mm drivers. Long 2.2m cable that suitable for desktop PC usage.
There is Armaggeddon Atom 5 gaming headphones in the package only. All the information is located on the packaging.
Build quality is decent for the price. Big sturdy plastic housing with metal double headband design. By the way, it is an over the ears headphones. And comes with adjustable microphone as you can see. LED lights are available on both left and right channels. 
Comes with a very long 2.2 meter cable. Then split into 3 cables for mic, AUX and USB for LED Light.
Fit, Comfort & Isolation
Thanks to adjustable headband, Atom 5 fits well. It's great and comfort to wear it for long hour of gaming or movie. No pressure on top and sides. Thanks to soft ear pads too. As for isolation, it is average at best. Does block some of the environment noises.
Performance Result
Armaggeddon Atom 5 adjustable microphone is great for team games. Just adjust to get the optimal mic placement for you will do. Mic performance is decent for the price. Others can hear me clearly. And don't forget the 5 colour lighting with pulsating effects. It will cycle through all the 5 colours. Nice and cool effect no doubt.
HEADPHONES:
Frequency response: 120Hz - 20 KHz
MICROPHONE:
Frequency range: 20Hz to 20kHz
DRIVER SPECIFICATIONS:
Oval Ear Cushions: Designed For Full-ear Coverage

Perfect for Long Wearing Comfort