Package Content & Design
There is Armaggeddon Havoc 2 Gaming Mouse in the package only. There should be an extra set of high quality teflon footpads included but I can't find it anywhere. No software driver CD too. But you can download the software driver easily from Armaggeddon Website (which I prefer).
Comfortable Grip
Build quality is excellent for this lightweight mouse. Solid plastic housing is being used no doubt. Furthermore, I like the design and ergonomic is great for right-handed mouse. Slightly glossy matte UV surface and give smooth feeling when touch. Mine is black in colour and there are white one as well. By the way, it also give you comfortable grip for both fingertip and palm grip styles. Medium in size that suitable for small hands. In addition, every buttons and scroll wheel can be accessed easily. 4 glide pads at the bottom. Finally, the cable is braided with anti-interference magnet ring while USB plug is gold plated.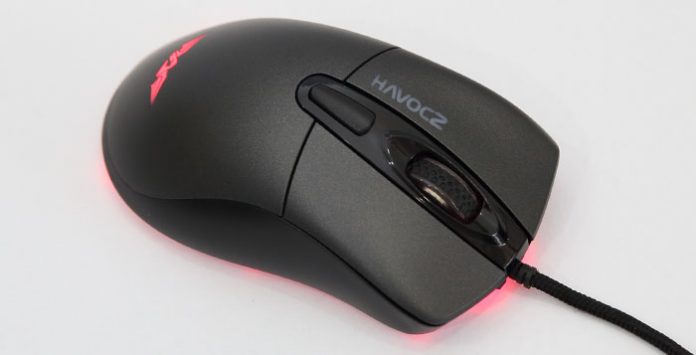 Software
Armaggeddon Havoc 2 looks alike Alcatroz X-Craft Pro Trek 1000 in term of software but does have some extras. As usual, Havoc 2 is plug and play supported in Microsoft Windows. Software driver will unlock all its features and functions. All 5 macro-able buttons are configurable. Select Windows shortcuts, macros and multimedia functions that you prefer. 6 sets of DPI can be set from as low as 200 to 4800 DPI. And you can set prefer colour for each DPI from 16.8 million colours RGB lights. Finally, there are 5 profiles – Cfg 1 to 3, media and game.
In the Advanced Setting, report rate is one of the extra features that you can't find in X-Craft Pro. And the usual pointer precision and wheel speed. Lastly, macro manager is there for you to setup marco keys. That's not all, there is LED Setting too. Basically, it lets you play around with the RGB light effects.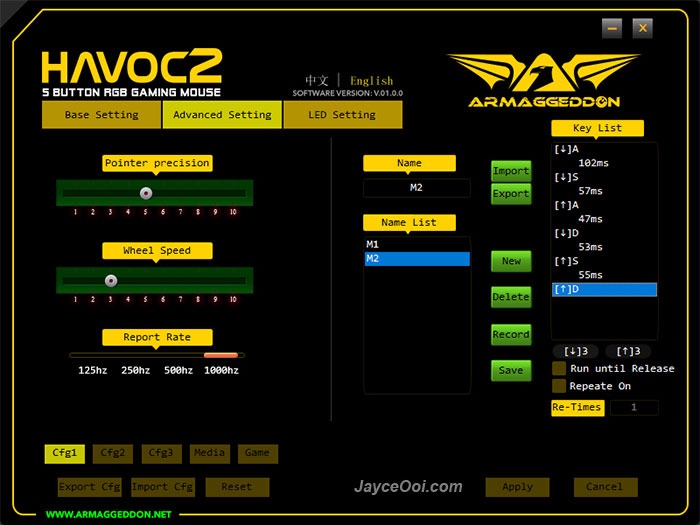 Performance Result
Armaggeddon 814 Optical software optimized gaming sensor performance is decent. Tested and working fine on multiple surfaces including slightly shinny and reflective ones. The optical sensor is located at almost center of the mouse. That's good as no new learning curve here. Ergonomic is perfectly well and fits my hand. Best for small hand by the way. Buttons are responsive and feedback is good too thanks to durable Huano switches. Everything perform well so far except for the scroll wheel. It does not have LED light. And its surface is a little bit too smooth to my taste. Not much grip when scrolling during gaming. Perfect for fast web browsing though.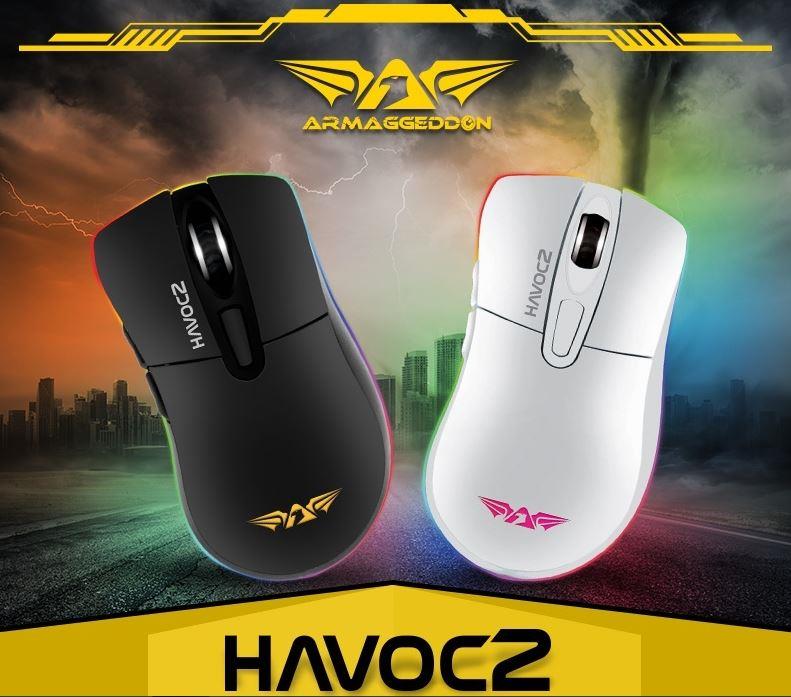 Advantages
Decent optical performance
Great ergonomic for comfortable grip
Adjustable CPI values
Customizable keys & LED lights
Stylish design
Limitations
Scroll wheel surface a bit too smooth
Single DPI button
Limitations
HAVOC 2
5 button RGB Gaming Mouse
Armaggeddon 814 Optical software optimized gaming sensor
Save up to 8-macros with wheel scroll 2 ways + click scroll macro-able™
Features
RGB Lights

:

Customizable 16.8 million colours
Resolution

:

On-the-fly adjustable CPI[by default]: 200-4800
Tracking speed:

up to 60 inches per second
Cord Length

:

Ultra-durable braided cable (1.5m)
Software

:

included for gamers customization downloadable from website
Accessories

:
Extra 1 set of high quality teflon footpads included