Armaggeddon Textron Scorpion 5 Gaming Mouse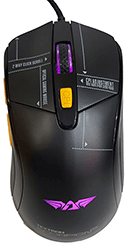 Armaggeddon Textron Scorpion 5 Gaming Mouse
Scorpion 5 is another gaming from Armaggeddon Textron Scorpion Series. They have the same features like programmable RGB lights, 4800 CPI high resolution, world's most durable Huano switches and customizable buttons. Scorpion 5 has additional 2 thumb buttons this round.
Package Content & Design
Just like Scorpion 3, extra free Armaggeddon Scorpion 5 mouse mat is available in the package. On top of user manual, there is additional teflon mouse feet for replacement too. You need to download software driver from Armaggeddon Website as usual.
Ultra-durable
Armaggeddon Scorpion 5 is a medium yet lightweight gaming mouse. Getting the same treatments on build quality – sturdy matte UV plastic on top and slightly glossy for the rest of the black housing. Ergonomic is great for right hand. All 3 grips can be used depending on your hand size. And buttons can be accessed easily as well. It is getting the same 1.8m ultra-durable braided cable with anti-interference magnet ring too. As usual, do refer to all the high resolution photos for details.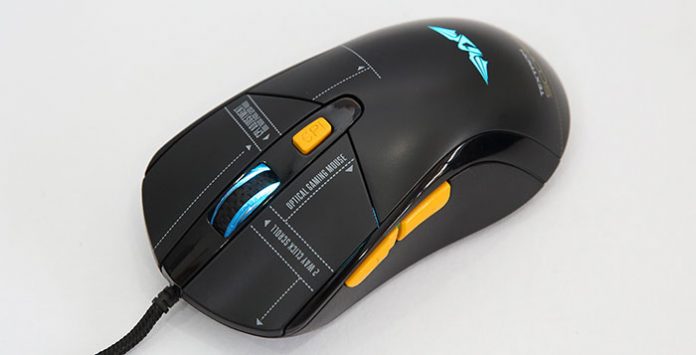 Software
Scorpion 5 software driver is basically the same as Scorpion 3. Therefore, I won't cover it here anymore. Do refer to previous review for that. Note – you do get 2 extra thumb buttons to configure this round.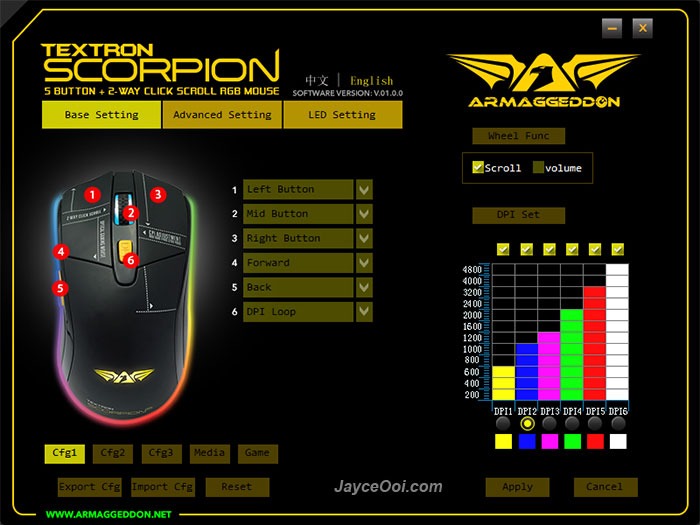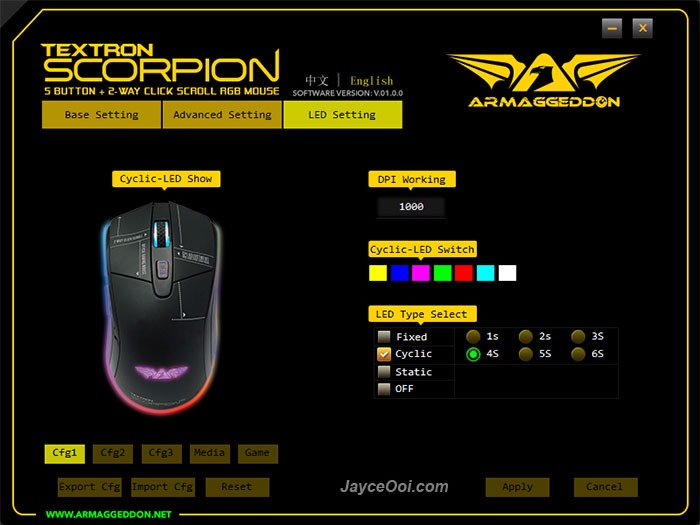 Performance Result
Smooth and accurate optical performance is what will get from Textron Scorpion 5. Same 814 Armaggeddon optical sensor insides. No new learning curve is needed as the optical sensor is located at center of the mouse. Ergonomic is great for right hand usage as a medium and lightweight mouse. Not recommend for left-handed due to its design. Do take note. On the bright side, the buttons are clicky as well yet quieter than Scorpion 3 with the same durable Huano switches. Hmm… I am not a fan of this scroll wheel grip design. It does not provide much grip when scrolling just like Havoc 2. Working fine for both web and gaming but not the best. Anyway, LED light on scroll wheel is a plus to know which CPI you are at now. Great for gaming no doubt.
Advantages
Decent optical performance
Great ergonomic for comfortable grip
Adjustable CPI values
Customizable keys & LED lights
Stylish design
Limitations
Scroll wheel surface a bit smooth
Single DPI button
Technical Specifications
SCORPION 5
5 button RGB Gaming Mouse
Armaggeddon 814 
Optical software optimized gaming sensor
Save up to 8-macros with wheel scroll 2 ways + click scroll macro-able™
Features:
RGB Lights
:
Customizable 16.8 million colours
Resolution

:

On-the-fly adjustable CPI[by default]: 200-4800
Tracking speed

:

up to 60 inches per second
Cord Length

:

Ultra-durable braided cable (1.5m)
Software

:
included for gamers customization downloadable from website
Accessories

:

Extra 1 set of high quality teflon footpads included