Armaggeddon T2Z MicroTron HoneyComb Design USB 3.0 Steel Gaming Case (Black)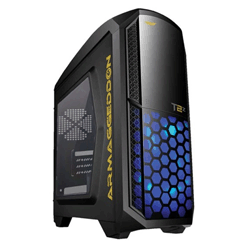 Armaggeddon T2Z MicroTron HoneyComb Design USB 3.0 Steel Gaming Case (Black)
Supports up to 2 X solid state drives, Easy access USB 3.0 in front, HD Audio ready, Hidden Cable management routes, Chassis support up to 5 x 120mm fan, Support Hi-end graphic cards(up to 320mm length), Translucent side panel, Full black coated inner structure, SPCC steel structure
Features
 Excellent tower design for gaming.
The T2Z Microton can accommodate full-sized motherboards, with support for up to 5 x 120mm fans. The chassis is also able to support high-end graphic cards up to 320mm in length.
The size of the T2Z Microtron allows it to hold up to 2 solid state drives. User accessibility is enhanced with USB 3.0 ports on the front panel, with HD Audio Ready ports also available.
Forget about messy chassis interiors, as the T2Z Microtron is equipped with hidden cable management routes, allowing you to safely tuck your cables away to give your set-up a neater look.
The inner structure of the T2Z Microton is fully black coated, and the steel structure is 0.4mm SPCC, accompanied by a translucent side panel.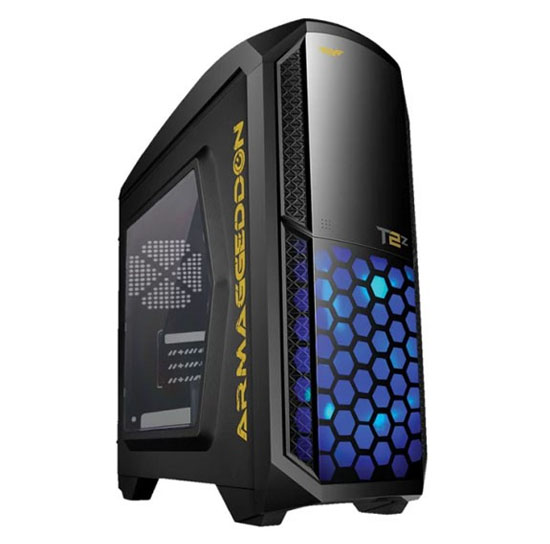 Specifications:
Steel structure is 0.4mm SPCC
1 X USB 3.0
1 X USB 2.0
1 X HD Audio port
1 X Microphone port
2 X 5.25'' external drive bay
1 X 2.5'' external drive bay
2 X SDD drive bay
2 X 3.5'' HDD drive bay
1 X Micro SD-card slot
1 X SD- card reader slot
4 X expansion slot
Support up to 5 x 120mm fans(fan is not included)
More information on chassis capability:
Snap-on front and top panel
Cable management design
Support up to 320mm length hi-end graphic card
Ventilation holes on 4 PCI and power supply slots
See-thru side panel design
Bottom mount power aupply with dust filter