Brother FAX-335MCS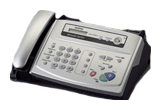 Brother FAX-335MCS
Thermal Fax Machine; 512KB Memory (20 pgs); 14.4K bps; Automatic Paper Cutter; Multi Ringing Sound; 104 Station Quick Dials; with Message Center Paging/ Fax Voice Retrieval/ Fax Forwarding
Additional 1 Year Warranty

Pay only P 654 a Month for 12 months.
Or pay only P 1,239 a Month for 6 months.
Installment promo is available for locally issued credit cards
Card holder must transact inside an Asianic store to avail of the installment
512KB Memory (20 pages)
14.4K bps High Speed Modem
Key Lock System
Multi Ringing Sound
Automatic Paper Cutter
104 Station Quick Dials
Brother Fax-335MC is a personal, direct thermal fax that stores up to 20 pages* for out-of-paper reception and equipped with a message centre to act as your personal answering machine.
Any fax-user will appreciate the convenience of Fax-335MC as it comes with a 10-page automatic document feeder, 104-station quick dials and convenience copying. It comes with a 14.4K bps fax modem that sends your faxes through in as little as 9 seconds. Other features that the user will appreciate are the delayed transmission, 512MB memory to store out-of-paper reception and the built-in answering machine that has a recording time of up to 15 minutes!
Technical Specifications
Model

FAX-335MCS

GENERAL
Print Engine
Direct Thermal
Modem Speed (bps)
14.4K bps, approximately 9 sec*
ITU-T Group / Coding Method
G3 / MH
Input/Output Width
A4
ADF (pages)
Up to 10 pages
Auto Cutter
Yes
Anti Curl System
Yes
Starter Paper
8m
LCD Size
16 characters X 1 line
On-Screen Programming
Yes
Back up Clock
48 hours
EEPROM SIZE
32k
Memory Capacity
512KB
Back up Memory
15 hours
TELEPHONE
Automatic Redial
Yes
Handset
Yes
One-Touch
Up to 4 stations
Speed Dial
Up to 100 locations
Tel-Index
Yes
Speaker Phone
Yes - Full Duplex
Chaing Dialing
Yes
Caller ID
Yes
Caller ID Log
Yes - Up to 10
Call back by using stored caller ID
Yes
Register Caller ID Information
Yes - One Touch and Speed Dial
Distinctive Ringing
Yes
Hold/Mute Key
Yes - Music on Hold
Night mode
Yes
Semi-dect
Yes
Key Lock
Yes
FAX
Easy Receive/Fax Detect
Yes
Fax/Tel Switch
Yes
Super Fine
Yes
Gray Scale
64 (Ditherd)
Contrast
Light/Auto/Dark
Smoothing
Yes
Call Reservation
Yes
Enhanced Remote Activation
Yes
Multi Resolution Transmission
Yes
Next-Fax Reservation
Yes
Delayed Timer
1 Timer
Polling Type
Yes - Sta/Del/Sec
Quick Scan
Yes
Broadcasting
Yes - Up to 104 locations
Out-of-Paper Reception
Yes - Up to 20 pages
ECM (Error Correction Mode)
Yes
COPY
Multi Copy
Yes
Sort
Yes
Copy Resolution
Up to 203x392 dpi
LIST/REPORT
Activity Report/Journal Report
Yes - Up to 30
Transmission Verification Report
Yes
Coverpage
Yes
Help List
Yes
Call Back Message
Yes
Caller ID List
Yes
MESSAGE CENTER
ICM Recording Time
Yes - 15 minutes
Page Memory
Yes - 20 pages
OGM MC/F/T/Paging
Yes
TAD Type
DSP
Recording Conversation
Yes
Fax Forwarding
Yes
Fax Retrieval
Yes
Paging
Yes
Remote Access
Yes
Toll Saver
Yes
DIMENSION AND WEIGHT
Dimensions (W x D x H)
299 x 240 x 137mm
Weight
2.9kg
OPTIONAL ACCESSORIES AND CONSUMABLES
CT-70 Catch Tray
For neat stacking of original documents
Standard Thermal Paper Size
50m
Thermal PLUS Paper Size
30m