Brother FAX-827S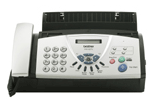 Brother FAX-827S
Plain Paper Fax Machine (Fax, Digital Copier, Phone); Up to 30 sheet paper capacity; Up to 10 page automatic document feeder; 512KB memory; Up to 100 speed dials; Up to 104 broadcasting locations; Fax Forwarding
Additional 1 Year Warranty

Pay only P 466 a Month for 12 months.
Or pay only P 882 a Month for 6 months.
Installment promo is available for locally issued credit cards
Card holder must transact inside an Asianic store to avail of the installment
* Plain paper thermal transfer fax
* 9.6K bps modem speed, approx.15 sec* transmission
* Integrated telephone handset
* Automatic recognition of fax & telephone reception
* Up to 25 pages* out-of paper reception
* Copy – reduce or enlarge document sizes from 50% to 150%
FAX-827S – Advanced Features for the Home and Small Office
An indispensable communication tool – connects you to family members locally and overseas with a range of communications options – be it fax or phone! Also brings you closer to your business partners, suppliers and distribution channels with the sharing invoice documents.
FAX-827S comes with a G3 9.6K bps modem that ensures fast transmission & also has the memory capacity to save incoming fax transmissions of up to 20 pages. You can also pre-set 100 speed dial buttons and even broadcast to 104 locations.
Another Brother's Fax Easy series - delivering you an easy-to-use, attractive and space saving solution to meet all your facsimile needs.
Technical Specifications
MODEL

FAX-827S

GENERAL
Print Engine
Thermal Transfer
Back up Clock
48 hours *9 hours for TUR
Operating Environment Temperature
Humidity
5 - 35 degrees Centigrade
20% - 80%
Starter Ribbon
Starter (ARL/NZ)
Full (ASIA/TUR/GULF/HK)
ADF
Up to 10 sheets
Paper Capacity
Up to 30 sheets
On-Screen Programming
Yes
Transmission Lock
TX Lock
Dimensions w/ Carton (WxDxH)
(with paper tray, paper wire extension)
302 x 267 x 340 mm
Weight w/ Carton
(with paper tray, paper wire extension)
2.7kg
Carton Dimensions (WxDxH)
380 x 271 x 191 mm
Weight with Carton
3.4kg
Color (see Color sheet)
Upper: Grey 1737 Lower: Grey 1581
Power Source
220 - 240V AC 50/60Hz
TELEPHONE
Handset
Yes
Automatic Redial
Yes (3 times/5 min)
PBX Feature
Yes (ARL/NZ)
N/A (ASIA)
Speaker Phone
Yes (Monitor)
Handset Volume
Not adjustable
Speaker Volume
Yes (3 steps + OFF)
Ring Volume
Yes (3 steps + OFF)
Hold/Mute Key
Yes - Mute key
Music On Hold
Yes
One-Touch Dial
4 stations
Speed Dial
100 stations
Figures of One-Touch & Speed Dial
20 digits
Resisterable Number Of Characters
15 characters
Group Dial
Yes (up to 4)
Telephone Index
Search/Mute key
Caller ID
Yes
Distinctive Ringing
Yes
FAX
Modem Speed
9,6K bps
Transmission Speed
Approx. 15sec.
ITU-T Group
G3
Coding Method
MH
Fax/Tel Switch
Yes
Super Fine
Yes
Gray Scale
64 levels
Contrast
(Auto/Light/Dark)
Smoothing
Yes
Enhanced Remote Activate
Yes
Station ID
Yes
RX Mode Indication
LCD
Delayed Timer
Yes (up to 3)
Polled Sending
Sta/Sec
Multi Resolution Transmission
Yes
Next-Fax Reservation
Yes
Call Reservation over Auto TX
Yes
Quick-Scan (Memory Transmission)
Yes
Memory Transmission (ITU-T Chart)
Yes (up to 20 pages)
ECM(Error Correction Mode)
Yes
Broadcasting
104 locations
Easy Received/Fax Detect
Yes
Polling Receiving
Sta/Sec/Timer/Seq
Auto Reduction
Yes
Out-of-Paper Reception (ITU-T Chart)
25 pages
Anti-Junk Fax (for Asia)
Yes (ASA/GULF/HK)
LIST/REPORT
Activity Report/Journal Report
Yes (up to 30 in Report key)
Transmission Verification Report
Yes (in Report key)
Coverpage
Yes
Help List
Yes (in Report key)
Call Back Message
Yes
Caller ID List
Yes
Quick Dial List
Yes (in Report key)
Tel-Index List
Yes (in Report key)
Memory Status List
Yes (in Report key)
System Setup(User Setting) List
Yes (in Report key)
INTERFACE
External TAD Interface
Yes
COPY
Multi Copy (Stack)
Yes (up to 99)
Multi Copy (Sort)
Yes
Reduction/Enlargement Ratio
50% - 150%
MESSAGE CENTER/MESSAGE MANAGER
Remote Access
Yes
Fax Retrieval
Yes
Fax Forwarding
Yes
CONSUMABLES
Ribbon Cartridge
(US: Letter size, EU/ASA: A4 size)
PC-501:
47m (150 pgs)
Refill ribbon x 2
PC-402RF:
2 x 144 page ribbon
Refill ribbon x 4
PC-40RF:
4 x 144 page ribbon
PC-AS4RF (Asia only)
4 x 144 pages ribbon