Cooler Master Master Air MA410p CPU Cooler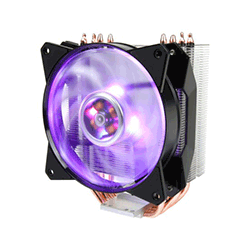 Cooler Master Master Air MA410p CPU Cooler
MASTERAIR MA410P Custom Colors With a sturdy MasterFan 120 Air Balance RGB, MasterAir MA410P is ready for more than 16.7 million color options and fun effects to play with Continuous Direct Contact Technology 2.0 (CDC 2.0) By compressing heatpipes together, there is 45% more surface area on the cooler base, providing improved heat dissipation over the previous version ,CDC 1.0 Precise Combination of Air Flow and Heatsink The stacked fin array ensures the least amount of airflow resistance allowing cooler air into the heatsink. The patented X-vents and Air-Guide steer extra ventilation to the hottest spots Snap and Play Intuitive fan bracket design makes upgrading and removing the fan a breeze.
INTRODUCING THE MASTERAIR MA410P
The MasterAir MA410P is the upgraded version of the MasterAir Pro 4, the Pro standard in CPU air cooling design and production from Cooler Master. The Continuous Direct Contact Technology 2.0 (CDC 2.0) increases the surface area of the cooler base by 45%. With the added bonus of the MasterFan 120 Air Balance RGB, making it not only silent and efficient in heat transfer, but also the most vibrant and fun choice when it comes to air cooling. If you are looking for an air cooler based on performance, silence, and quality RGB lighting, the MasterAir MA410P is the perfect cooler for you.

CDC 2.0
4 HEATPIPES WITH CONTINUOUS DIRECT CONTACT TECHNOLOGY 2.0
Comparing to its previous version CDC 1.0., 
CDC 2.0 creates 45% more contact surface area on cooler base by compressing heatpipes together. 
It significantly increases heat dissipation capability and outperform its predecessor.

Countless Colors and Effects
With a Sturdy Masterfan 120 Air Balance RGB and our wired RGB Controller
MasterAir MA40P is ready for more than 16.7 million color option and tons of fun 
effects to play with

OPTIONAL PUSH-PULL FAN CONFIGURATION
To avoid dynamic losses and help accelerate heat exhaust, an additional MasterFan 120 Air Balance RGB helps pulling heat away faster from heatsink.

RGB IN THE PALM OF YOUR HAND WITH INCLUDED WIRED RGB CONTROLLER C10L
A compact size RGB LED controller that allows you to easily customize your RGB devices without the need for either an RGB capable motherboard or software. With six pre-set modes, seven color options and five brightness levels, you can have the colorful rig you've always wanted with just the touch of a button.

DIMENSIONS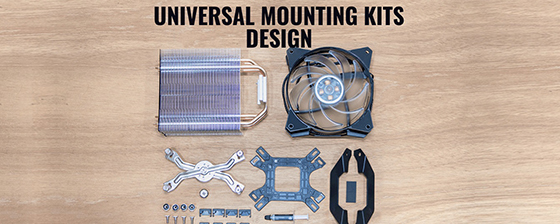 Technical Specifications
CPU SOCKET
:
LGA2066, LGA2011-v3, LGA2011, LGA1151, LGA1150, LGA1155,
LGA1156, LGA1366, AM4, AM3+, AM3, AM2+, AM2, FM2+, FM2, 
DIMENSIONS
:
 (L X W X H)
:
84 x 129 x 158.5 mm / 3.3 x 5.1 x 6.2 inch
HEAT SINK DIMENSIONS
(L X W X H)
60 x 116 x 158.5 mm / 2.4 x 4.6 x 6.2 inch
HEAT SINK MATERIAL
:
4 Heat Pipes, CDC 2.0, Aluminum Fins
HEAT SINK WEIGHT
:
420g / 0.93lb
HEAT PIPE DIMENSIONS
:
Ø6mm
FAN DIMENSIONS
:
(L X W X H)
120 x 120 x 25 mm / 4.7 x 4.7 x 1 inch
FAN SPEED
:
650-2000 RPM (PWM) ± 10%
FAN AIRFLOW
:
66.7 CFM (Max)
FAN AIR PRESSURE
:
2.34 mmH2O (Max)
FAN MTTF
:
160,000 Hours
FAN POWER CONNECTOR
:
4-Pin (PWM)
FAN RATED VOLTAGE
:
12V DC
FAN RATED CURRENT
:
0.28A
FAN SAFETY CURRENT
:
0.37A
FAN POWER CONSUMPTION
:
3.36W
SERIES
:
MasterAir
COOLER TYPE
:
Air Cooler