Pay only P 513 a Month for 12 months.
Or pay only P 971 a Month for 6 months.
Installment promo is available for locally issued credit cards
Card holder must transact inside an Asianic store to avail of the installment
MC-SERIES WITH FREEFORM™ MODULAR SYSTEM
We want you to have absolute control over how your case looks and functions. The FreeForm™ Modular System of the MC-Series lets you adjust the exterior structure and aesthetic via a range of replacement panels and doors. Each choice changes the look and feel of the case, but also the flexibility of the interior layout.
FRAME WITH REMOVABLE PARTITION PLATE
The option to relocate the M.port and remove the partition plate gives you the freedom to adjust the inside of the case.
With the partition plate installed, you isolate the power supply and cables for a clean build.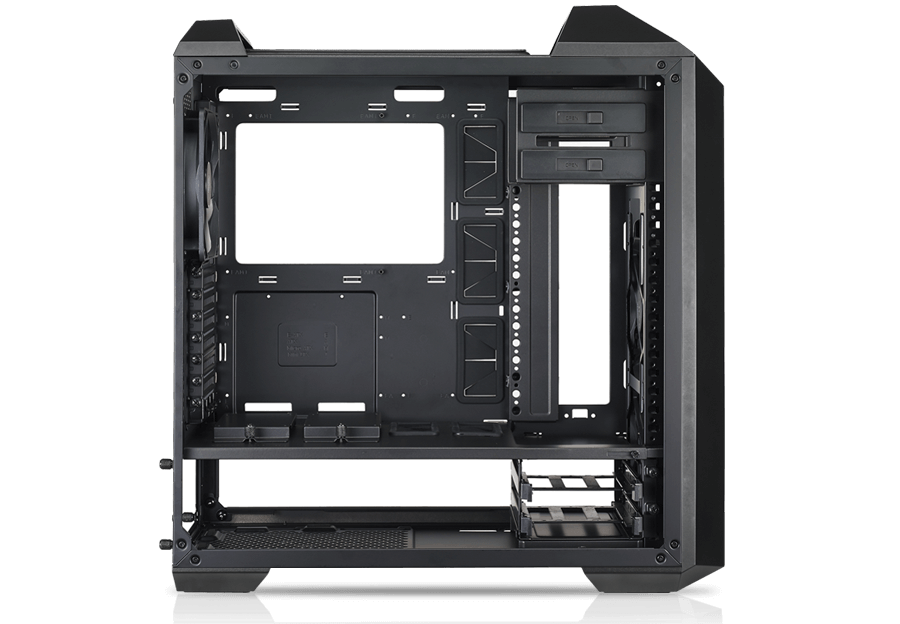 ADVANCED I/O PANEL
Rich connectivity on an easy accessible I/O panel.
2x 3.0
2x 2.0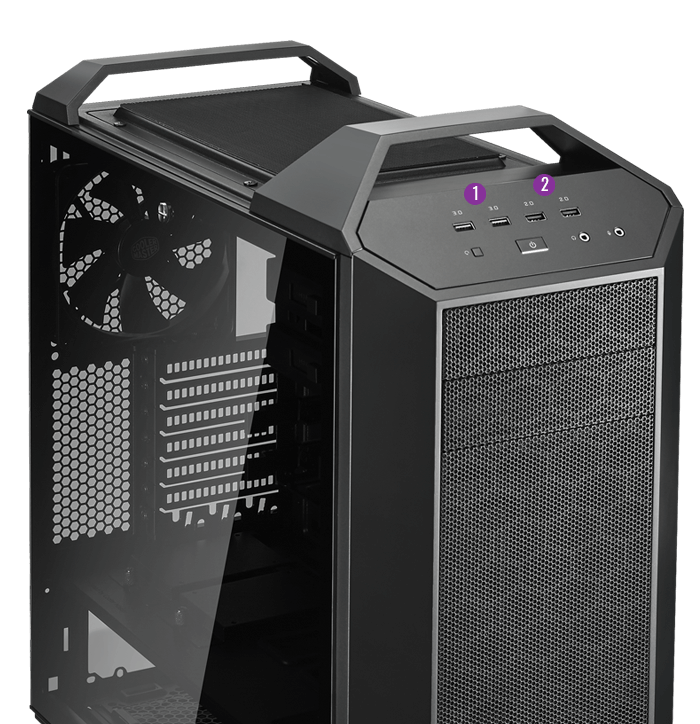 CLEAR VIEW INSIDE
An edge-to-edge light grey tinted tempered glass side panel gives a wide view inside your PC to showcase your masterpiece.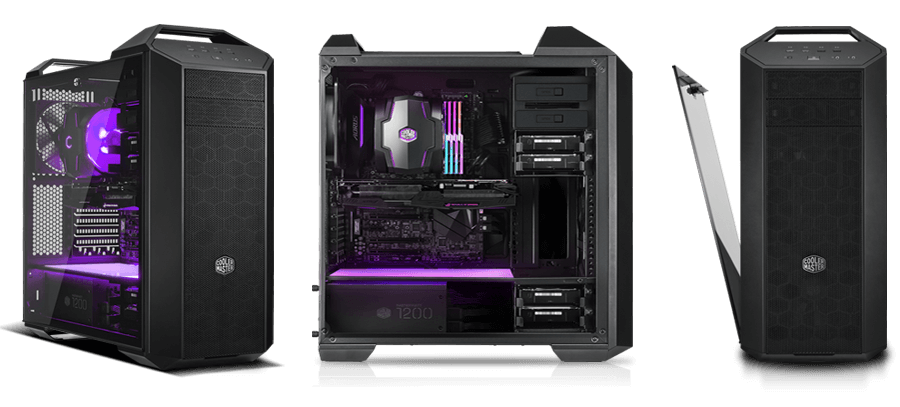 ADJUST INTERNAL LAYOUT CLIP-AND-CLICK PANEL
But this isn't just about aesthetics. Each decision opens new possibilities. Leveraging our unique clip-and-click panel, FreeForm lets users vertically adjust or entirely remove your optical disk drive (ODD) and HDD via sliding locks so intuitive you'll play with your configurations just for fun. Well, some people will. Just click-in the cages, and adjust the height to suit your needs. Position them at the top to allow room for up to three extra-long graphics cards, or retain only the bottom positioned cages to add a front-mounted radiator for even more cooling options.
Integrate replacement accessories like:
- Fan brackets
- Water cooling reservoirs
- GPU support brackets
SLIP-AND-CLIP POCKETS
The first Cooler Master case to incorporate two easy to install slip-and-clip solid-state drive pockets (2.5") with four easy mounting positions. Showcase them on the partition panel or hide them behind the motherboard tray for a cleaner look.
A. Two behind the motherboard tray
B. Two on top of power supply partition
UNMATCHED VENTILATION
FreeForm enables the option to install three front-mounted 140mm fans and a 280mm radiator for unmatchable ventilation due to a unique facility to horizontally shift the bottom-mounted hard disk drives. There's also support for up to six 140mm fans through the case, unique for a mid-sized tower.
ACCESSORIES
FreeForm extends beyond the case to include all the support you need in terms of selecting and purchasing components through a range of accessories to truly help you Make It Yours.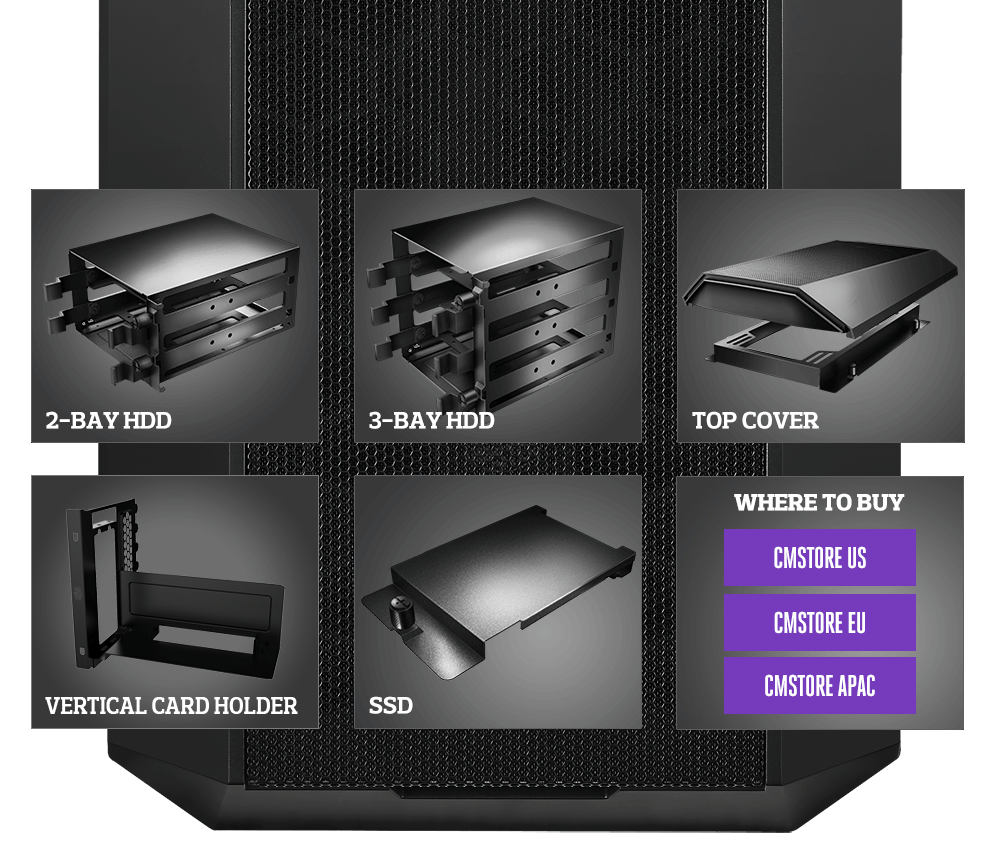 Technical Specifications
Product Name
:
MasterCase MC500
Model Number
:
MCM-M500-KG5N-S00
Available Color
:
Dark metallic grey exterior with black interior
Materials
:
Steel, Plastic, tempered glass
Dimensions (LxWxH)
:
512 x 235 x 548mm
Motherboard Support
:
E-ATX (up to 12" x 10.7"), ATX, Micro-ATX, Mini-ITX
Drive Bays
:
5.25"
2
Drive Bays support
:
5.25"
2
Combo 2.5"/3.5"
8 or 10 (with ODD bay removed)
I/O Port
:
USB 3.0 x 2, USB 2.0 x 2, Audio in / out (supports HD Audio)
Pre-installed Fans
:
Front
140mm x 1 (1200RPM)
Fan Support
:
Front
120 / 140mm x 3
Radiator Support
:
Front
120 / 140 / 240 / 280 / 360mm
Clearances
:
VGA
412mm (without 3.5" HDD cage)
296mm (with 3.5" HDD cage)
Cable Routing
:
Behind MB Tray
25mm - 35mm
Dust Filters
:
Top, Front, Bottom
Power Supply Support
:
Bottom Mount, ATX