Cooler Master MasterLiquid Lite 240 CPU Liquid Cooler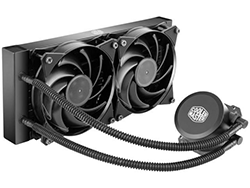 Cooler Master MasterLiquid Lite 240 CPU Liquid Cooler
With its kink-resistant tubing and matt-black styling, the MasterLiquid Lite 240 is a Cooler Master original design and attractive entry into liquid cooling. Reliability, performance and quiet operation are ensured by its unique Dual Dissipation Pump and Two 120mm Air Balance fans. Whether you're building new or just upgrading, it's easy to install on the latest Intel or AMD systems.
MasterLiquid Lite 240
Liquid CPU cooling optimized for low noise and performance. Easy to install 240mm radiator makes this the perfect all-in-one liquid cooling for novice to experienced builders.
Dual-Chamber 
PumpPatented design of the dual-chamber isolates the heated coolant, therefore maximizes the results of the cooling of the processor.
Stylish Radiator
Custom design low resistance radiator allows higher flow rate, heat exchange efficiency and provides unmatched cooling performance.
Technical Specifications
Model number
:
MLW-D24M-A20PW-R1
CPU Socket
:
Intel® 
LGA 2066 / 2011-3 / 2011 / 1366 / 1156 / 1155 / 1151 / 1150 / 775
AMD 
AM4 / AM3+ / AM3 / AM2+ / AM2 / FM2+ / FM2 / FM1
Waterblock Dimensions (LxWxH)
:
80.3(L) x 76(W) x 42.2(H) mm
Radiator Dimensions (LxWxH)
:
277(L) x 119.6(W) x 27(H) mm
Radiator Material
:
Aluminum (Radiator)
Tube Lenght
:
358mm ± 5mm
Fan Dimensions (LxWxH)
:
120(L) x 120(W) x 25(H) mm
Fan Speed
:
650-2,000 RPM ± 10%
Fan Airflow
:
16.5-66.7 CFM ± 10%
Fan Air Pressure
:
0.48-2.34 mmH2O ± 10%
Fan Life Expectancy
:
160,000 hrs
Fan Noise Level (dBA)
:
6-30 dBA
Fan Bearing Type
:
POM Bearing
Fan Connector
:
4-Pin (PWM)
Fan Rated Voltage
:
12 VDC
Fan Rated Current
:
0.16 A
Fan Power Consumption
:
1.92 W
Pump Life Expectancy
:
70,000 hrs
Pump Noise Level
:
<8 dBA
Pump Rated Voltage
:
12 V
Pump Rated Current
:
0.3 A
Pump Power Consumption
:
3.96 W