Cooler Master MWE 450W 80+ WHITE 230V US PSU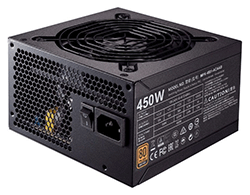 Cooler Master MWE 450W 80+ WHITE 230V US PSU
Product Name MWE 450 Product Number MPW-4502-ACABW ATX Version Intel Form Factor ATX 12V V2.31 PFC Active PFC (>0.9 typical) Input Voltage 200-240 Vac
High Efficiency and Low Noise
with Active Power Factor Correction design and forward topology. Meeting the 80 PLUS certification for 230V, the MWE will guarantee a typical efficiency of at least 85% during normal use.
ErP 2013 Lot 6 Compliant
The MWE is designed to the latest envirmental regulations and standards, meeting the ErP 2013 mandates. The MWE consumes less then 0.5 Watt when your system is in standby mode, which not only reduces strain on the environment but also your energy bill.
Proven Thermal Resistance
The MWE is engineered to operate normally at up to 40°C, providing added security and reliability to systems operating in warmer environments.
Quiet and Durable
The thermally controlled 120mm HDB fan operates smoothly without friction. Enjoy your system with a durable fan in a quiet environment.
Damage Resistant
The MWE provides you full standard protection (OCP/OVP/UVP/SCP/OPP) plus built-in Over Temperature Protection (OTP). These extra security measures minimize the risk of damage to your system from power outages
Technical Specifications
Input Voltage
:
200-260 Vac
Input Frequency Range
:
47-63 Hz
PFC
:
Active PFC (>0.9 typical)
Power Good Signal
:
100-500 ms
Efficiency
:
85% Typically Load