CSB GP-12170 Battery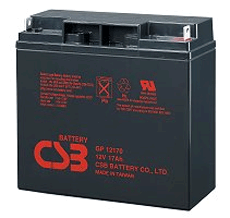 CSB GP-12170 Battery
GP 12170 - 12V, 17AH is a general purpose battery up to 5 years in standby service or more than 260 cycles at 100% discharge in cycle service. As with all CSB batteries, all are rechargeable, highly efficient, leak proof and maintenance free.
Features
CSB UPS GP12170
Valve Regulated Lead Acid Battery
12V 17AH @ 20 Hr. Rate
12V 71WPC @ 15 min. rate, 1.67vpc
5 year design life @ 25 degree C
1 month replacement Warranty
Absorbent Glass Mat Technology, AGM
No restrictions for Ground/Air Transport, non spillable battery
Technical Specifications:
Cells Per Unit
6
Voltage Per Unit
12 V
Dimension
7.13"L x 3.0"W x 6.5"H
Capacity
17 Ah @ 20hr-rate to 1.75V per cell @ 25°C (77°F)
Weight (kg)
Approx. 5.5kg. (12.13 lbs.)
Maximum Discharge current (A)
230A (5sec.)
Internal Resistance Approx.
Approx. 16 mΩ
Operating Temperature Range
Discharge:-15℃~50℃(5°F~122°F)
Charge:-15℃~40℃(5°F~104°F)
Storage:-15℃~40℃(5°F~104°F)
Nominal Operating Temperature Range
25°C ± 3°C (77°F ± 5°F)
Float charging voltage
13.5 to 13.8 VDC/unit Average at 25°C (77°F)
Recommended Maximum Charging current limit
5.10A
Equalization and Cycle Service
14.4 to 15.0 VDC/unit Average at 25°C (77°F)
Self Discharge
CSB Batteries can be stored for more than 6 months at 25°C (77°F) Please charge batteries before using. For higher temperatures the time interval will be shorter.
Terminal
Bolt & Nut
Container Material
ABS(UL94-HB/FileE50263)*Flammability resistance of(UL94-V0/File E54297) can be available upon request..