Deepcool M6 Marvelous 2.1 Subwoofer Sound Audio Cooler Pad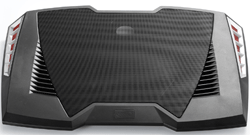 Deepcool M6 Marvelous 2.1 Subwoofer Sound Audio Cooler Pad
2.1 speaker system with excellent stereo sound (2 tweeter & 1 woofer), Plug-and-play with standard 3.5mm line in for easy access to any music source, 14cm fan for optimal airflow to cool your gaming notebook, Fan speed adjustable for a perfect balance between cooling performance and silence, USB HUB function with 4 USB output ports for your additional USB devices
Features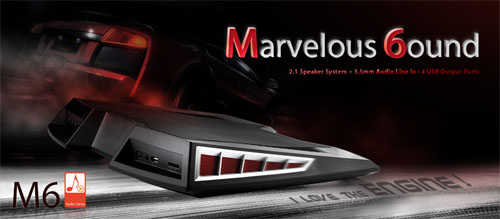 2.1 speaker system with excellent stereo sound (2 tweeter & 1 woofer)
Plug-and-play with standard 3.5mm line in for easy access to any music source
14cm fan for optimal airflow to cool your gaming notebook
Fan speed adjustable for a perfect balance between cooling performance and silence
USB HUB function with 4 USB output ports for your additional USB devices
Marvelous Sound
2.1 Speaker System
M6 excels in music experience! Built-in 2.1 speaker system owns 2 tweeters on both sides and 1 woofer in the middle. The speaker cavity inside M6 is extended to the maximum to give you the most auditory pleasure when gaming. You can easily swap between this 2.1 speaker system and your gaming headset with the 3.5mm stereo line in jack.
Absolute Gaming Appearance
Inspired by Need for SpeedTM, the designer crafts this notebook cooler which can combine the looks of a luxurious sports car and the stunning sound effect of its engine. That's M6! The front end is designed in triangular shape with a lean edge, just like a sports car illustrates aerodynamics to the maximum. The sleek design also features the silver-red side windows and fully covered black metal mesh at the top.
Be Gaming, Be Cool
A gaming laptop may heat up very fast and need a good cooler to ensure its operation. With a built-in 14cm fan, M6 can cool down your gaming laptop and you can indulge yourself as long as you wish. If you want to rest after playing, you can turn down the fan speed with the control knob.
Inner Magnetic SpeakersThe inner-magnetic speakers can ensure the stability of the sound and avoid any interference with notebook components.
Technical Specifications
| | |
| --- | --- |
| Overall Dimension | 456X358X75mm |
| Fan Dimension | Φ140X15mm |
| Net Weight | 1500g |
| Bearing Type | Hydro Bearing |
| Rated Voltage | 5VDC |
| Operating Voltage | 4.5~5VDC |
| Started Voltage | 2.8VDC |
| Rated Current | 0.5±10%~1±10%A |
| Power Input | 2.5 to 5W |
| FAN Speed | 700±150-1100±10%RPM |
| MAX.Air Flow | 47.35CFM |
| Noise | 21dB(A) |
| Frequency Response | 180Hz~15KHz |
| Tweeter | 2inches(52mm)+2inches(52mm) |
| SubWoofer | 2.25inches(57mm) |
| Sensitivity | 450±50mV |
| Audio Adapter | 3.5mm |
| Antimagnetic Function | Available |